A pupil in HCM City has been offered various scholarships by 11 universities which are ranked by US News and World Report as among the 100 best colleges and universities in the US.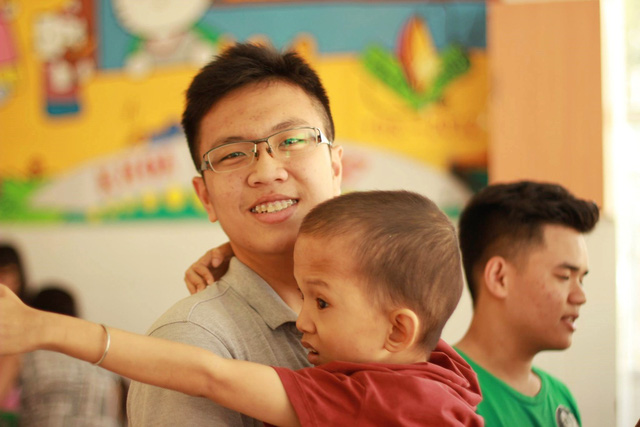 Nguyen Phan Tat Thanh started the Heart of the Youth project for disabled children affected by the Agent Orange
Nguyen Phan Tat Thanh is studying at the High School for the Gifted, under Vietnam National University in Ho Chi Minh City. Based on the achievements, Thanh was offered the highest merit-based scholarships. All 11 universities offered Thanh scholarships that are 50% to 90% discounts on tuition fees for four years. For example, the University of Denver offered USD104,000 in scholarships while the State University of New York - University at Buffalo offered a USD37,000 subsidy. He would still be liable to pay living costs.
Thanh said he had been thinking about studying overseas for a long time but was unsure about his financial capability. However, his dream was realised after Heart of the Youth project for disabled children affected by the Agent Orange.
"Studying overseas will enrich my knowledge and it will help me realise the desire to expand the project to the US and other countries," Thanh said.
Thanh had the idea for the project when he met Agent Orange affected children at Hoa Binh Peace Village at Tu Du Hospital. Thanh and his best friend Nhat Thong then started the Hearth of the Youth project to teach the children.
"The project aims to teach the children academic and soft skills. This is an opportunity for volunteers to help inspire the children, improve upon themselves and make the community better," Thanh said.
Thanh's project has attracted 40 volunteers who teach 70 children at Tu Du Hospital, HCM City Oncology Hospital and the Green Bamboo Warm Shelter. Thanh also participated in many school activities, plays piano as well as many sports including table tennis and swimming.
His academic achievements are impressive as he had been top students in secondary and high schools and won a city award for solving mathematics problems with a hand-held calculator. Besides SAT and TOEFL, Thanh's average scores since 8th grade have always been 9.0. However, Thanh said scores were only a small factor and the submitted essay, e-mail exchange with universities were what would decide the scholarships.
Thanh said, "I often exchanged e-mails with the universities' representatives and asked interesting questions. It takes three minutes to read a 650-word essay to understand a student from far away. It took me three months and dozens of ideas to write the essay."
Thanh wrote about his father who has great influence on his life. Thanh's father was a company director but his company went bankrupt. Thanh has witnessed his father's shock and struggle afterwards as he stayed home to take care of Thanh.
"Five years later, he was hired at Agribank and was able to buy a better house at a better location. I have been provided better living condition, why can't I be as good?" he said.
Thanh said he would pursue civil engineering and international business at the University of Massachusetts which offered a USD56,000 scholarship.
Dtinews