VietNamNet Bridge - Summer training courses in Singapore and the US are a good way to prepare for students' real overseas studies in the future.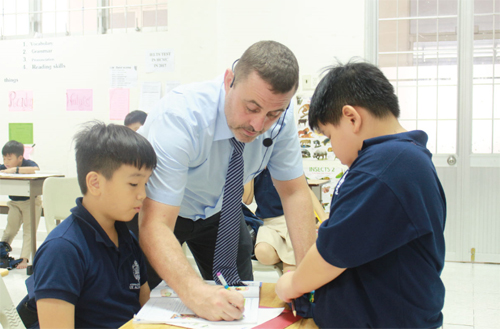 The academic year will end in one week and it's time for Dieu Ha, a seventh grader, to make intensive preparation to attend a 3-week international summer camp in the US which commences in mid-June. 

Ha has two private tutoring English lessons a week with a Filipino teacher. She hopes the practice of English will help her become more self-confident at the camp.

Two years ago, Ha also attended a summer camp which lasted one week in Malaysia. "My English was very bad then. However, the trips abroad helped me improve my English and my communication skills," she said, adding that the training courses are very useful for her as she would study abroad after finishing general school.

As a secondary school student, Ha's passport shows entries to many countries, including South Korea, Japan and Malaysia. Her interview for a visa to the US went well.


Summer training courses in Singapore and the US are a good way to prepare for students' real overseas studies in the future. 
Lan Huong, her mother, said Ha together with 20 students aged 10-16 will have lessons with teachers in Los Angeles, California, in the morning to improve English skills. In the afternoon, they will go shopping, sailing or skiing and visit universities. Students will stay with local families.

"My daughter needs to be independent to prepare well for her life and study in the future," she said, adding that unlike other parents who try to keep their children within their reach, she encourages her children to become independent. 

Asked about the cost of the trip, Huong said she has to pay VND100 million, triple the summer camp in Malaysia two years ago.

"We have three children and VND100 million is really a big amount of money. However, I think we need to prepare well for my children's future," she said.

Other parents are registering for summer camps in Singapore for their children because the trips are cheaper than to the US.

For Phuong Lan, a parent in Bac Tu Liem district, VND30 million for a one-week trip to Singapore is a "very reasonable price".  Her son attended the summer camps last year and the previous year. He cannot go abroad this year because he has to study to prepare for high school entrance exams.

An education expert noted that Vietnamese now have a different way of parenting compared with previous generations.

"They encourage children to go abroad and meet as many people as possible," he said.
RELATED NEWS
Extra classes deprive Vietnamese children of a real summer
Vietnamese students need harmonious curriculum
Chi Mai