VietNamNet Bridge - Dr. H. Kim Bottomly, a distinguished immunobiologist and prominent scientist, has been elected as the new chair of the Fulbright University Vietnam Board of Trustees.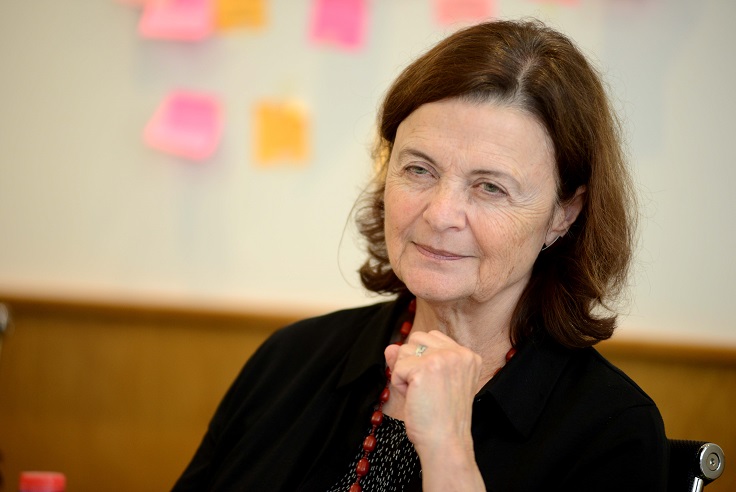 Dr. Bottomly - the new chair of the Fulbright University Vietnam Board of Trustees. 
Dr. Bottomly succeeds Senator Bob Kerrey, who served as the founding chairman of the university's Board of Trustees. 
From 2007 to 2016, Dr. Bottomly served as President of Wellesley College, a preeminent liberal arts college in the US, and the top-ranked college for women in the world. 
Dr. Bottomly was a faculty member at Yale University for many years, and also served as Yale's Deputy Provost. She is an elected member of the prestigious American Academy of Arts and Sciences and an elected member of the National Academy of Inventors.
Announcing his decision to step down from the board, Senator Kerrey said: "Fulbright University Vietnam occupies a special place in the unique relationship between the US and Vietnam. It has been a great honor to serve as the university's first Chairman."
"Over the past three years we have made great strides towards achieving our dream of a creating an innovative Vietnamese university. It was with great enthusiasm that I nominated Kim Bottomly to succeed me. I've enjoyed working with Kim and know she will do an excellent job. I of course remain very committed to the university's success and look forward to supporting the endeavor however I can."
"I am deeply honored by the opportunity to serve Fulbright University Vietnam," Dr. Bottomly said. "The opportunity to help create a new liberal arts university in Vietnam is a worthwhile and important endeavor. The energy and dynamism of Vietnam's young people makes Vietnam a particularly special place to create a new institution of higher learning."
Dr. Bottomly continued: "The entire Fulbright University Vietnam community owes a great debt of gratitude to Bob Kerrey, whose tireless efforts have been instrumental in advancing the university from bold dream to vibrant reality. I look forward to working with the university's leadership and faculty to develop world-class educational opportunities for students from Vietnam and around the world."
Fulbright University Vietnam's President, Ms. Dam Bich Thuy said: "Having spent her career as a faculty member at some of the world's most distinguished universities, Kim is exceptionally well-positioned to work with me and the university's faculty, staff, and students to develop rigorous undergraduate and graduate teaching programs and impactful research initiatives."
Former Secretary of State John Kerry said: "My friend Bob Kerrey has dedicated his life to public service, in the military, politics, and finally in higher education. Bob's indefatigable efforts on behalf of Fulbright University Vietnam, even when it has hurt to relive a war to which he's done so much for so long to bring closure and peace, exemplify his determination to do what is right, rather than what is expedient." 
"Bob and I share a commitment to see the university prepare future generations of Vietnamese leaders for service to their nation and the world," he said.
Fulbright University Vietnam, Vietnam's first independent, nonprofit university, was announced by President Barack Obama in May 2016. 
The university welcomed its first graduate students later that year. The university's graduate program in public policy was established by Harvard University as the Fulbright Economics Teaching Program in 1995. 
Fulbright University Vietnam's undergraduate program in engineering and the liberal arts and sciences will welcome its first undergraduate students later this year. 
Fulbright University Vietnam is building its main campus in HCM City's Saigon High Tech Park. The first phase of construction on this site, which will accommodate 1500 students, is scheduled for completion in 2021. Until moving into its permanent campus, the university will be based in District 7. 
Mai Lan