VietNamNet Bridge – For 71-year-old retired teacher Vo Thi Son, teaching and going to the pagoda every day are important routines to stay healthy and enjoy peace of mind.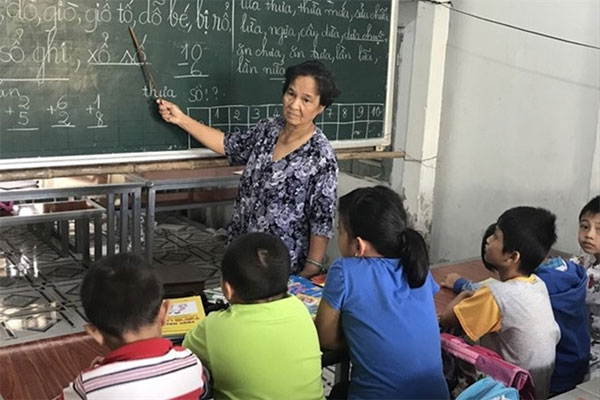 Retired teacher Vo Thi Son teaches children at her house in Chau Van Liem Ward in O Mon District, Can Tho City. - Photo laodong.vn
She has been offering free classes to poor children at her residence -- Chau Van Liem Ward in O Mon District, Can Tho City -- for over 40 years.
Son said she got married and has been living there since the 1970s. As a primary school teacher at the time, she was concerned about the poor children living around her home who could not go to school because their families could not afford it. Some of the children did not have a birth certificate, which prevented them from getting admission to public school.
Determined to help them, Son started a class for the poor children to attend in the afternoons at her home. After teaching at the primary school in the morning, she would teach the poor children to read and write. She also taught them basic lessons or skills that first and second graders should be equipped with.
Since Son retired 10 years ago, dozens of children carrying books and notebooks flock to her house every morning except Sundays.
Vietnamese language and mathematics are two major subjects that she teaches.
In the morning her house is usually filled with her gentle voice and the laughter of children. It becomes quiet when the children have to follow her dictation or take an exam.
Sometimes lessons get delayed during the rains, as the sound of the raindrops on the iron roof drowns out Son's voice. The unexpected break, however, gives the teacher and students some time to get to know each other better.
There are 30 students -- half of them from Khmer ethnic groups -- in the first-grade programme and six students in the second-grade programme.
"In my years of teaching, I have taught thousands of students. It's hard for me to remember all of them, but honestly, I have wonderful memories of some of them," Son said.
Her adopted son named Bac Nam was also one of her students. Noticing he was very intelligent but poor, Son supported him from the time he was a second grader until he graduated high school.
Nam then attended a mechanical engineering course and got a job in HCM City.
"Nam has become one of my family members; he joins us to celebrate the Tet (Lunar New Year) holidays every year," Son said.
Son expressed great happiness over seeing her former students again when they visit her during special celebrations, especially on Viet Nam Teachers' Day on November 20.
"Their visits remind me of meaningful days past and give me the strength to continue my work," she said.
"Some of my former students donate money, so I can buy tables, benches and other teaching materials for my free classes," Son said.
She was also impressed by a female student who suffered from a mental disorder.
"She [the student] is 15 years old but looks like an eight-year-old. She is very bad at remembering the letters of the Vietnamese alphabet," Son said.
In addition to joining a class with the other students, this student receives extra tuition.
"I was very patient with her," Son said, adding that a few months later, the student was able to read.
Six-year-old Thanh Nam, one of Son's students, said she was his second mother as she had taught him a lot.
"My father is a porter, and my mother sells lottery tickets. After class, I go fishing and then sell crabs or snails to earn some money," Nam said, adding that "it's fun to go to class."
Also present for Son's classes are the mothers and grandmothers of the students, as they wait to pick them up.
An old Khmer woman, Danh Thi Ut, said she could speak very little Vietnamese, that is why she asked Son to help teach her two grandchildren Vietnamese.
Another woman, Vo Thi Hoa, 64, said her family could not afford to send her grandchildren to school, and they were now 5 years old.
Hoa had heard about Son's free classes and sent them to attend. After three months, her grandchildren were able to read, but more importantly, they became more polite and nicer to other people.
Son's husband, Luong Ut, said she loved teaching so much that he did not stop her classes.
"She is more than 70 years old now. I'm afraid that she might be tired after teaching," Ut said.
Son said she would keep teaching until she could not do it any longer.
"The class does not make me tired. It makes me happy," she said.
Every morning, she wakes up early and goes to the market. Once she returns, she teaches from 7 until 10am or longer, and then cooks lunch.
After lunch, she reads the newspaper and takes a nap. After dinner, she visits the pagoda.
"This routine helps me keep my peace of mind and stay healthy," Son said, adding that she was healthy enough to keep teaching and helping poor children.
"On Sunday, the children are off, but I still think of them," Son said.
by Tran Dinh Phuong
Source: VNS