VietNamNet Bridge – HCM City householders are always in need of house cleaning and housekeeping services as Tet (Lunar New Year) draws near.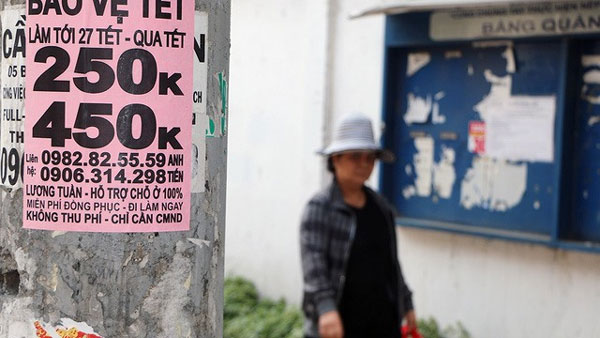 Job advertisement for housekeepers for Tet on a lamppost in HCM City. — Photo tuoitre.vn
Furniture cleaning is a much needed service at this time of year. Nguyen Minh Tam in District 10, with 10 years' experience of couch washing, told Tuoi Tre (Youth) newspaper that he was receiving two to three times as many orders.
"Six to seven clients call me up a day," he said. "Each set of couches requires a few hours to clean, so I have to work at lunchtime and extra time in the evening."
People who plan to go back to their hometowns to celebrate often hire housekeepers while they are away. This is always difficult for manpower and security service agencies as not only do home owners demand caretakers who are honest, it is also difficult to find people willing to stay in strange homes, especially over Tet.
Housekeeping rates are listed at VND800,000-2 million (US$35-88) a day on manpower agency websites. Agencies also hand out job advertisements and flyers to recruit staff.
Nga, a representative from a security agency in Tan Phu District, said her company had been recruiting temporary staff to work during Tet for the past three weeks. On regular days, the company offers VND190,000-250,000 ($8-11) per shift (one shift lasts 12-16 hours), but it is three times as much during the holiday, from VND540,000-760,000 ($24-33).
"We often pay by the month, but because of the severe staff shortage, we now offer free accommodation and advance 30 per cent of wages each week," she added.
"We have also lowered our job requirements. Candidates only need to meet basic requirements about age, weight, height, and hold identity cards," she said.
Some manpower companies pay less than Nga's agency, but said they are increasing their rates because of the high demands.
Dao Hong Hanh, a resident from District 9, said she had put a lot of effort into finding a housekeeper.
"I directly contacted a security service agency, but their rate was too high," she said. "It took me a long time to find someone who accepted my offer of VND6 million ($264) for 10 days."
The few weeks before the holiday are a ripe time for university students to earn extra money.
Pham Thi Thu Hoai, a sophomore at the Ho Chi Minh City University of Pedagogy, decided not to go home early this year and stay in the city to work after her school term ends. She will work part-time, packaging sausages at a food processing factory from February 7-10, and clean houses for some families from February 11-15 at VND700,000 ($31) per day.
"I'm very happy that I can make about VND5 million ($220) in nine days, which is enough to cover my study expenses after the holiday," she said.
Dang Hoang Cong from the Ho Chi Minh City University of Technology and Education did housekeeping for a family during Tet last year. This year they called him up and offered to increase his wage and bonus for the same service (last year he got paid VND600,000 per day and a VND2 million year-end bonus).
"The job lasts only a few days but it pays enough to cover my tuition fee for a whole term," he said. "I'm not happy to be away from home during the holiday, but glad that I can ease the financial burden on my parents."
Source: VNS