VietNamNet Bridge – STEM education (science, technology, engineering and mathematics) is an interdisciplinary and applied approach being used at HCM City schools with effective results.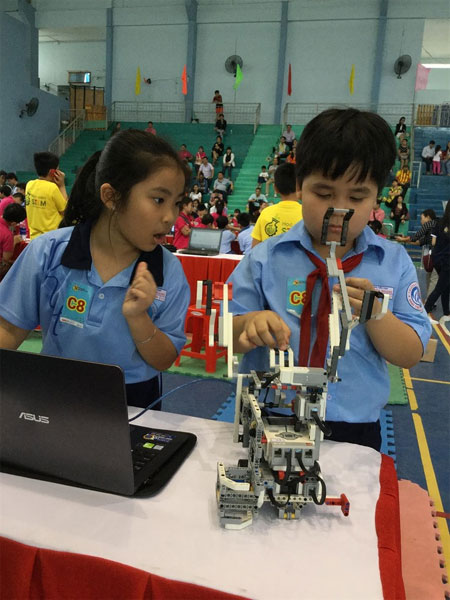 Primary school students in HCM City attend the Robothon Contest 2017 on November 4. —VNS Photo Gia Loc
Two students at Le Hong Phong School for Gifted Students, for example, were honoured by the city's Department of Science and Technology late last year after winning second prize in a contest called Sang Kien Cong Dong 2017 (Social Ideas).
The students had developed a watch with four sensors that warn wearers against epilepsy seizures. 
Other schools in HCM City have also been encouraging their students to access STEM education via many research programmes.
Teachers and students at Ernst Thalmann High School, for instance, work together to do research, including using waste plastic bottles for lamps for poor residents.
Students at many primary and secondary schools such as Le Ngoc Han and Nguyen Hue have extracurricular programmes on robotics which are part of STEM education.
Schools in rural areas in the country also have students access STEM education.
All students are guided to reuse waste for their research projects and lessons in STEM, thus reducing costs for their activities.
On May 4 last year, Prime Minister Nguyen Xuan Phuc issued a directive on tackling challenges posed by the fourth industrial revolution, including solutions on enhancing STEM education in high school curricula.
The Ministry of Education and Training was assigned the responsibility of these tasks, but implementation has seen challenges, according to education experts.
Nguyen Thi Thu Ba, of the Institute for Education Research under University of Pedagogy, told Sai Gon Giai Phong (Liberated Sai Gon) newspaper that most students at secondary and high schools take subjects that are tested on the national exam for high school graduation and university entrance.
Tests on the exam are designed under a multiple-choice format, while the assessment in STEM education is about students' research and products, Ba said.
Tran Duc Huyen, former principal of Le Hong Phong School for Gifted Students in HCM City, said that examinations still focused on mostly theory and that students at the school had asked him why their research and products had not also been assessed.
Dr Dang Van Son, lecturer at the Ha Noi University of Science, said that STEM education is the most effective when high schools work closely with universities, which can offer professional knowledge for teachers.
Multidisciplinary co-operation between research institutes, educational and scientific organisations, occupational associations and enterprises ensures continuity in implementation, Son said.
Dr Duong Thi Hong Hieu, head of the University of Pedagogy's training division, said that universities which train teachers should keep up with the STEM trend and approach.
The university has set up a centre for STEM research and application to give instruction in teaching methodologies for high school teachers, Hieu said. 
Source: VNS