VietNamNet Bridge – English fluency targets set by a national project are too high and not backed by sufficient inputs, experts say.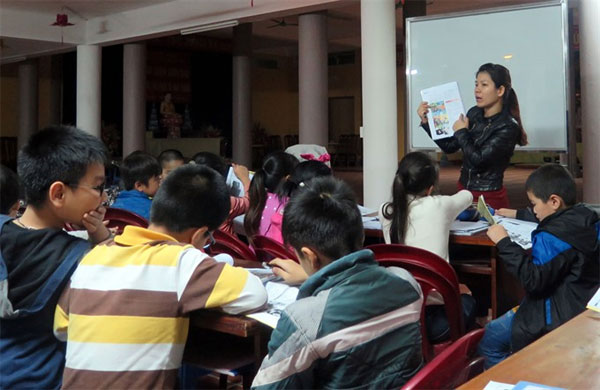 A volunteer teaches English to children at the An Vinh Pagoda, Tuyen Quang Province. - VNA/VNS Photo Quang Dan
At a recent meeting on English teaching at colleges and universities held by the education ministry, Nguyen Thi Lan Anh, head of HCM City Transport University's foreign language department, said a 2015 survey of fourth and fifth year students had found that fewer than 20 per cent could match expected fluency criteria.
The 2008-2020 national project, "Teaching and Learning Foreign Languages in the National Education System," requires university graduates not majoring in foreign languages to reach B1 level, the third of six levels under the Common European Framework of Reference for Languages. (A1 - beginners; A2 - elementary; B1,B2 - intermediate; C1,C2 - advanced).
"It takes 360 to 400 hours of teaching for students to advance from level A2 to B1 level. But the current total in English teaching at the school is about 100 hours," Anh said.
Professor Dang Van Minh, deputy director of the Thai Nguyen University said that the university has had to lower its English output criteria to A2 instead of B1.
"We set the target too high but do not have solutions to realise it," he said.
Schools nationwide are struggling to achieve targets by the major national project, the meeting heard.
Representatives of academic institutions said that the English level of students at high school is so low that it is difficult to improve their English proficiency when enter university.
Thus, a B1 standard upon graduation not feasible, they said.
After eight years, the national foreign language project, has failed to reach its targets in terms of the number of learners, and quality of teaching learning at all academic levels, localities and sectors, a recent investigation by the State Audit Office of Viet Nam found.
The office reported that project outcomes for the period 2011-2016 period are not commensurate with the investment of more than VNĐ4.2 trillion (US$182.6 million). Its targets are too high and broad, and lacks lacking appropriate schedules and solutions to realise them.
Under the project, a foreign language will become a major subject for all students from third to 12th grade. It sought to significantly enhance foreign language proficiency of Vietnamese human resources by 2015, and having graduates of intermediate schools, colleges and universities be more independent and confident in communication by 2020.
This would enhance their abilities to study and work in an integrated and multicultural environment, making foreign languages capabilities a national strength, the project envisaged.
Tran Anh Tuan, deputy head of deputy head of Department of Higher Education under Ministry of Education and Training, admitted that accomplishing some primary targets of the project by 2020 would a tough challenge.
The report by the State Audit Office of Viet Nam states that in 2015-2016, proper surveys of teaching and learning foreign languages have not been done. Information about the number and quality of teachers, students, infrastructure and teaching equipment at ministries, sectors and localities have not been updated, it said.
It also said that assessment and issuance of new English curricula and textbooks has been delayed. Some localities have rushed to expand the new English programme without having qualified teachers, students and infrastructure, it said.
Uneven teaching quality
The English proficiency level of teachers is one of the main reasons for the project's failures, the meeting heard. Nearly half the English teachers at primary schools do not met set criteria.
An English proficiency test conducted by the Education Ministry for 500 English teachers in 2013 showed none of them were qualified for level C2. The majority had only reached B2 levels. 71 teachers had reached the C1 level. Twenty-two teachers were at beginning and intermediate (A1 and A2) levels.
Another test on 324 teachers of English majors the same year also had disappointing results. The English proficiency of 139 teachers was at A1 and A2 level.
Tuan said that the national foreign language project has failed to reach its target, because teachers have uneven English proficiency levels. The number of teachers trained abroad remains low, and many universities do not test the proficiency of English major teachers.
Grammar focus
Nguyen Minh Tri, a student of Sai Gon University told Tuoi tre (Youth) that English learning at primary, secondary, high schools and university placed too much focus on grammar. Students rarely have the chance to practice speaking and listening, he said.
"Two English lessons per week and too many students in a class do not allow us to practice," he said.
Representatives of many universities agreed that the number of English lessons at schools is not enough for students to fulfil criteria required by the national project.
An experienced expert in English education, Vu Thi Phuong Anh, told Tuoi Tre that quite a few English teachers trained abroad have a good command of the language as well as teaching skills. But it would be hard for them to make any breakthrough if current curricula and teaching methods are persisted with, she said.
She said that learning English through books only cannot help students improve their proficiency. "We must change curriculum and teaching methods," she said, without elaborating.
Tran Khac Hoan of the Vinh University of Technology and Education proposed to the management board of the national foreign language project, that they focus on improving English teachers' capacity, especially through overseas training, even for schools not under the Education Ministry's management.
The project should fix an annual budget for promoting English learning and teaching at educational institutions, said Phan Thanh Tien of Hue University. 
In December 2017, Deputy Prime Minister Vu Duc Dam approved amendments and supplements to the foreign language teaching and learning project for the 2017-2020 period. 
The newly amended project calls for all academic levels to continue with the new foreign language curriculum, and improve English proficiency of students to adapt to studying and working requirements, towards foreign language universalisation (having all schools and colleges teach foreign languages) by 2025.
By 2025, 100 per cent of foreign language majors of universities must apply output criteria for students upon graduation while 80 per cent of other majors must also apply the criteria.
By 2025, 100 per cent of students majoring in foreign language teaching must follow professional criteria and fulfill requirements of foreign language teachers' capacity. 
Source: VNS