VietNamNet Bridge - Using cloud computing technology and Internet of Things, a group of students from Vietnamese-German University have created an environmental monitoring system which finds polluted areas.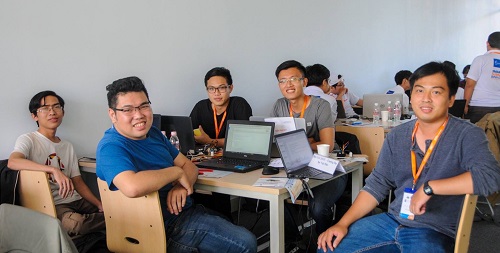 The students from Vietnamese-German University
The product was created by Tran Quang Tien, Ly Minh Tai, Ho Ngoc Khang Minh and Dinh Buu Son from the Electrical & Electronic Engineering Faculty.
Asked why they decided to create the monitoring system, Tran Quang Tien, head of the group of students, said pollution was a burning problem for many countries. 
In Binh Duong province, where there are many industrial zones, the problem is even more serious, because of waste discharge. 
Tien and his team decided to help local state management agencies manage the environment and help local people update information about the environmental situation.
At the Binh Duong Hackathon, a competition organized for Binh Duong students, the students created a technological solution which manages environmental parameters with smartphones.
After 36 consecutive working hours, the team built a database system which manages monitored points and an app. They tried monitoring at three points to collect information about the air.  
Ly Minh Tai, a member of the team, said they plan to use cloud computing to store all the data transmitted from the monitored points. 
The points have wireless connections with the database and send parameters about the environment via IoT.
The points have wireless connections with the database and send parameters about the environment via IoT.
"The utilization of cloud computing and IoT will help ease the use of hardware resources. Data will be stored in clouds, so there is no need to spend money on a server," Tai explained.
"The data can also be customized according to the characteristics of each area," he said.
The parameters about the environment will be updated and available at computers or smartphones. 
Data will be transmitted in accordance with real time. If environmental problems appear, such as air pollution, excessive waste water discharge and the risk of fire and explosions, state management agencies will be sent alarms immediately for prompt action.
People can use smartphones to learn about environmental indexes through an app. They will be informed about areas in unsafe conditions. 
Dr Vo Bich Hien, a lecturer of the university, said the system has high feasibility and can be used in the smart city which Binh Duong is building.
"If we set up many monitoring points at different places in the city, we will have a network which can help state agencies better manage the environment," he said, adding that the data will be managed and authorized at different levels to local authorities, scientists and the public.
RELATED NEWS
Vietnam wins high prizes at Seoul International Invention Fair
World famous inventions of Vietnamese
Chi Mai