VietNamNet Bridge – Children at kindergartens in 41 out of 63 provinces and cities studied English in the 2016-2017 academic year, an increase of 20 areas compared to the 2013-2014 period, according to the Ministry of Education and Training.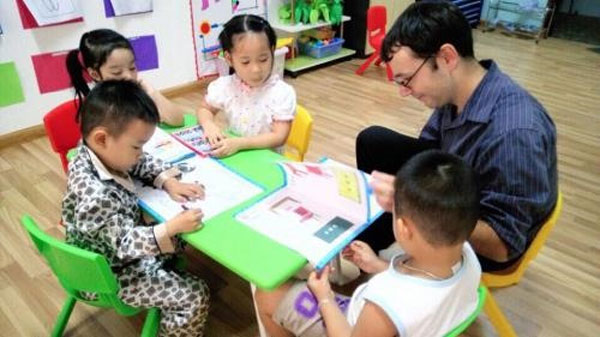 A foreigner teaches English at a Vietnamese kindergarten. Source baotintuc.vn
Most of the 192,149 children were aged 4 to 6. They studied basic communication skills, the alphabet, numbers, colours, animals, vehicles, and other subjects.
Local departments of Education and Training assess the quality of foreign language centres, and if they qualify, the centres are allowed to provide textbooks and teachers to public kindergartens.
In Ha Noi, Da Nang and HCM City, high-quality kindergartens and private kindergartens directly hire their English teachers.
At least 2,944 teachers, including foreigners and those who studied English at university, teach English to children at kindergartens, according to local educational departments.
Speaking at a workshop on English teaching at kindergartens, Dr Nguyen Ba Minh, head of Kindergarten Education Department under the Ministry of Education and Training, said many of the children had become confident speaking English.
Many students have good pronunciation and accents, Minh said, adding that this was an important foundation for developing language and cognitive skills.
Studies say that early childhood is a critical period for language development as children are very receptive to learning a second language, according to Minh.
"Many parents, especially in big cities like HCM City and Ha Noi, want their children to learn English early, which has led to increased demand," he added.
Parents have the option of registering for English lessons for their children at kindergartens since it is not compulsory. The children study two to three days a week for 30 to 35 minutes a day as part of extracurricular activities.
Vietnamese teachers now have access to advanced methodology and training because of the assistance from foreign teachers, Minh said.
However, the programme for teaching English at kindergartens faces problems, including a shortage of facilities and teachers.
There are still no detailed regulations from the ministry for recruiting local teachers for kindergartens.
Ha Thi Thanh Thuan, a representative of Ba Ria-Vung Tau Province's Department of Education and Training, said that foreign teachers without official education training should be trained in child psycho-physiology and obtain certificates in kindergarten education.
Source: VNS