Students nationwide have been receiving little psychological consultation as the position of school counsellor is not mentioned in Government lists of school staff.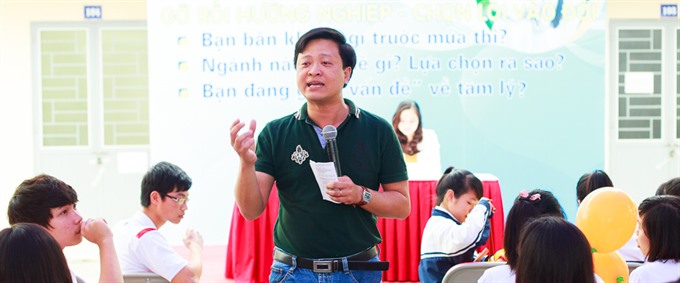 A psychological expert from the Hà Nội University of Humanity and Social Science advises students in Hà Nội. Students nationwide have been receiving little psychological consultation. — Photo thcsdaoduytuhn.vn
The Thanh niên (Young people) newspaper on Thursday reported that many counselors in schools in HCM City wanted to quit because their salary was low and they had to perform tasks outside of their expertise.
A psychology teacher in a high school in HCM City's Hóc Môn District told the newspaper that he was paid VNĐ3 million (US$132) monthly and was ineligible for any extra allowance even though he teaches classes like other teachers.
He added that when he took over citizenship education class for a colleague who was in maternity leave, he could claim an allowance worth 30 per cent of his salary.
Another counsellor in a high school in Tân Phú District said that in her contract, she was a teacher but when she worked at school, she was treated as a member of the administrative department.
"Besides consulting and teaching soft skills for students, I'm assigned to work as a school supervisor once a week," she said.
There are about 100 high schools in HCM City with consultation rooms.
The consultation rooms were opened when the municipal People's Committee issued a document in 2008 on job positions at schools including the title 'counsellor'.
However, in early 2015, the document was deactivated as the Ministry of Education and Training had no regulations on the job description and tasks of counsellors.
In April, 2017, the ministry announced a draft circular on psychological consultation for high school students, a move welcomed by counsellors.
The draft mentioned issues relating to the establishment and development of school psychological consultation.
But the 'counsellor' title was still not included in the ministry's circular on jobs and staff in public schools issued in July this year.
Trần Anh Dũng, the principal of Tam Phú High School in HCM City's Thủ Đức District said that high school counsellors were not mentioned in the circular, so in order to employ them, they had to work in other positions at the same time.
Dũng said that if counsellors could not concentrate on their expertise, their performance would be less effective.
Meanwhile, others with no expertise in counselling could struggle to perform, said Phạm Thị Bích Phương, a teacher from Marie Curie High school in District 3.
Associate Professor and Dr Trần Thị Minh Hằng from National Institute of Education Management told Giáo dục & Thời đại (Education and Times) newspaper that counselling had not been given proper attention in schools in Việt Nam.
In many schools, the work was done by head teachers or other untrained personnel.
Meanwhile, students, particularly those at high school age, are in need of careful psychological consultation to deal with various new problems and experiences, Hằng said.
Without proper guidance, some students are vulnerable to negative feelings and behaviour that affects them and others.
Timely advice could help ease the negative feelings and deal with the problems. School counselling is useful to students who spend hours at school, with many of their problems related to school. — VNS