VietNamNet Bridge – Parents who are finding extracurricular classes including piano, painting, photography, dancing and music for their children to minimize their exposure to social media, smartphones and the Internet during the summer break could take note of the following destinations.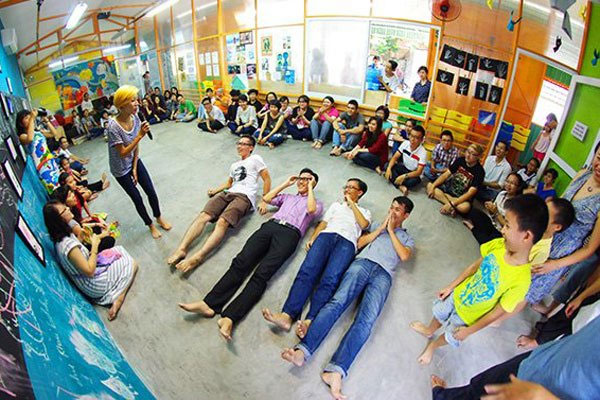 Young people take part in an activity at Toa Tau – Photo: Hue Nghi/SGT
Parents can take their kids to Toa Tau at 632 Dien Bien Phu Street, Binh Thanh District, HCMC, a special art school for kids. The school offers courses in various fields including creative painting, music, watercolor paintings and photography with an aim to provide kids with relaxation after a hard-working school year, arouse their creativity, and improve necessary life skills.
Toa Tau will hold an art summer camp with the theme of "Music for kids" from June 5 to 30 for children aged between 5 and 7. Children will have the opportunity to learn how to distinguish musical instruments, write lyrics of songs and show music talent through performances.
In addition, kids are able to join a creative painting course which is open from June 12 to 16 under the instruction of experienced painter Do Huu Chi, one of three founders of Toa Tau. Furthermore, those who have passion for watercolor can register a watercolor painting course from June 13 to July 8.
Meanwhile, for parents who want their kids to be exposed to music at an early age, the Armuli Music Center could be an ideal choice with dedicated instructors and a friendly learning environment. Parents can take their children to 176 Tran Nao Street, Binh An Ward, District 2 to learn to play the piano.
Especially, the Magic Arts Center at 183 Hoa Lan Street in Phu Nhuan District will hold an art workshop where young kids can feel free to be engaged in a series of fun learning programs such as ceramic painting, glass painting, visual art and magic studio.
Nguyen Quy
Source: SGT