VietNamNet Bridge – Some nights, when only one classroom light shines at Nam Xuan Commune's Le Loi Elementary School, you can find students older than the usual elementary schooler.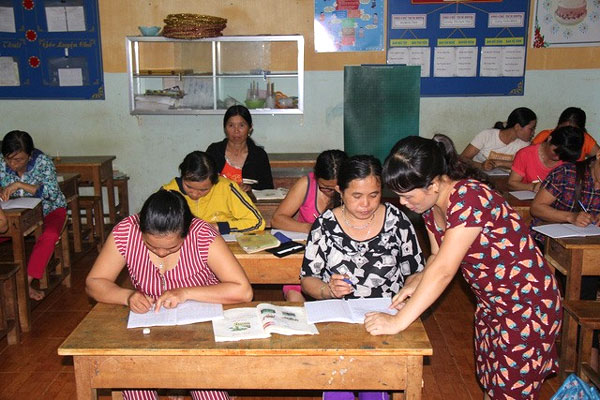 The class meets four times a week, with nearly 30 women from minority ethnic groups in Nam Xuan Commune in the Central Highlands province of Dak Nong. — Photo: VNA/VNS
The school offers a literacy class for nearly 30 middle-aged women from minority ethnic groups in the commune--like Thai, Tay and Dao--who usually speak their ethnic language rather than Vietnamese. 
The class is dubbed the "three Zeroes" class, because here, students don't have to pay any fees, teachers don't receive any payments and there are no men.
The youngest student is 35 years old, while some others are already grandmothers. However, in class they seem to leave their ages and roles behind to enjoy being 'students' for the first time in their lives.
Luong Thi Khuyen, 43, was the latest to come to class one night.  She made everyone burst into laughter by her explanation: "I overslept."
Khuyen is a special student in the class. When she first decided to join the class, she had to keep her husband in the dark about her decision.
She said that when school teachers came to her house to call for her participation, her husband did not want her to go, because he thought there would also be men here.
"He told me he would teach me at home, but I know it would not work because he is no better than me. I attended the first day of the class without telling him."
"On the second day, he secretly followed me. But when he saw that all the class members were women he just silently came home. Now, not only does he not complain, he also drives me here everyday," Khuyen said.
Khuyen, who hails from the country's northwest mountainous region, never attended school when she was a child, because her family is poor and she is a woman. After getting married and moving to this Central Highlands province, she was too busy earning a living and looking after her children, so learning to read and write was never on her to-do-list. 
Things changed about three months ago when the commune's Women's Association came to check for the number of illiterate people in the commune.
Le Thi Tuyet, vice principal of Le Loi Elementary School was behind the idea of opening the literacy class for commune women.
She said her idea stemmed from a talk with a student's mother.
"During our talk, I noticed that she was fumbling with her phone. She then revealed that she can't read and had been struggling to use the phone."
"She also told me that many other women in her hamlet are the same and wish to go to school. That gave me the idea of opening this class," she said.
Her idea was supported by the school management board, the Nam Xuan Commune and Krong No District's authority. Only one week later, literacy class was in session.
Two teachers at the school were assigned to be in charge of the class with a curriculum specifically designed to suit their "special" students.
"Although we don't get any extra payments or allowances, we are committed to do the job with all our heart and enthusiasm because we know that our role as teachers is to bring knowledge to the local people," said Le Thi Thuy Van, a teacher of the class.
The class is now being held four times per week.
Having been a teacher for more than 20 years, Van said it was the most special class she has ever had.
"It does not only require teaching, we also have to 'coax' our students. Because they are all middle-aged, they are very shy and hesitant to express themselves in class."
"We have to coax and encourage them as if they were children. Especially, in front of them, we never call this a 'literacy class' but a 'class to enhance the Vietnamese language capability'," she said.
After more than two months since the first day, all participants have recognised letters and started knowing how to write. 
Vi Thi Nhiem, 47 and already a grandmother, is the oldest student in the class.
Despite finding it harder to absorb the knowledge than others, she never feels discouraged; knowing how to write has been her dream for very long.
"Before, we never went to school. Every time going to the authority to do paperwork, we just pressed our fingerprint on the papers. Even with our children's birth certificate, we had to ask another person to help us out."
"I am very happy that I can read and write now. It is as if I was turning back time to be 9 or 10 years old again," she said.
Teacher Tuyet from Le Loi Elementary School said many women who missed the first class had asked the school to open a second class with the capacity of nearly 30 students.
She said the school was asking the local authority for permission to open more classes at each hamlet to make it easier for local people to attend.
Duong Phong
VNS