The Vietnamese Ministry of Education and Training has requested Hoa Sen University to explain why a professor wore shorts during giving lectures.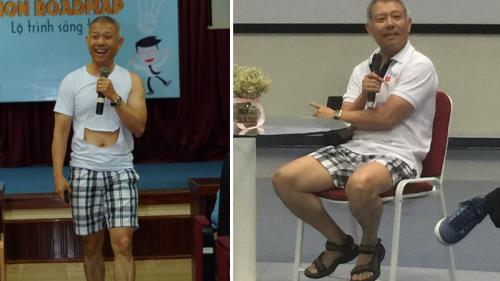 Professor Truong Nguyen Thanh dressed in shorts to give lectures
Photos emerged on social media of the way Professor Truong Nguyen Thanh, Vice Director of Hoa Sen University in HCM City. 
He wore the shorts to give lectures on innovation to his students.
He said that his choice of outfit aimed to demonstrate the creativity and innovation.  
Thanh reportedly wore shorts during lectures that were part of the Innovation Roadmap course at his university. 
He clarified that it was actually his course on innovation roadmap which focused on teaching students to develop their creative thinking and the ability to innovate and break away from traditions.
Last June, he also wore a shorts and a 'torn' T-shirt at a similar course at the Ho Chi Minh City University of Technology where handed out undershirts to each of the attendants and asked them to do whatever they wanted with it.
For his part, he himself cut off one sleeve and cut out a large hole in the belly. Following, the students got excited and came up with unique ideas. Some students cut their undershirt into a headscarf, while others turned it into a towel.
Many people support his idea for encouraging the out-of-the-box thinking, while others oppose, saying that it was ridiculous and could affect young people with his ideas.
Asked how he felt following the public reaction, he said that he didn't care. It is normal for the controversy towards something new. Argument is good sometimes. He, however, was a bit shocked at the public interest.
Prof. Dr. Truong Nguyen Thanh was born in 1961, and worked and lived in the US for 38 years before returning to Vietnam.
Hoang Duc Minh, Head of the Ministry of Education and Training's Department of Teachers and Educational Administrators, said that the ministry had a code of ethics and regulations for assistant professors and professors.
The ministry has asked Hoa Sen University to report on the case related to Professor Truong Nguyen Thanh.
dtinews