Weak English skills are a major problem for university students, with many of them unable to graduate despite good results in their majors.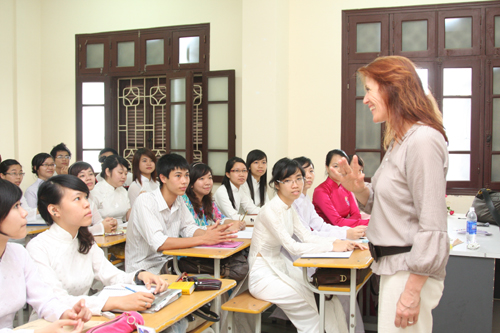 An English lesson at Vietnam National University, Hanoi 
Under the National Foreign Language 2020 Project which was implemented in 2008, many universities in Vietnam have applied a level-3 English certificate, equal to level B1 of the Common European Framework of Reference for Languages, as a criteria for graduation. 
L.Q.D, a student from the HCM City University of Social Sciences and Humanities, has failed to graduate as he can't fulfil the required English certificate. 
"I went to an English centre hoping to improve my English skills. But I still failed to get an English certificate as required by my university," he added.
T.T, a final-year student of the Ho Chi Minh City University of Agriculture and Forestry, is also in the same situation with Dinh as he now has to try to achieve an English certificate for his graduation.
Universities are aimed to encourage their students to increase their English skills before graduation.
According to Le Sy Dong, Deputy Headmaster of HCM City Banking University, said that the level of 530-point TOEIC certificate also causes difficulties for many students with weak English skills. 
Many of them had to spend time and money on English courses, but were still unable to get the required English certificate.
Since the English certificate is applied, only 40-50% of students at HCM City Open University have passed their graduation exams.
To deal with the English requirement, many students buy fake certificates, priced at millions of VND; while, some other hired others to attend the English courses. 
HCM City University of Agriculture and Forestry have ever detected lots of violations.
National foreign language project is a failure
A survey by recruitment firm Vietnam Works of 2,500 workers from companies of all sizes across the country on the establishment of the ASEAN Community showed that a large number of people lacked confidence about regional integration. 
The main reasons were weak English skills as well as lack of negotiation skills to discuss salaries and working conditions with recruiters.
Many local education experts have pointed out widespread failures in the teaching of English. 
This is attributed to the fact that Vietnamese schools have only focused on English grammar and reading comprehension for the purpose of gaining good marks. 
As a result, both students and their teachers are barely capable of speaking and understanding English in everyday use. 
Poor quality teachers also contribute to this situation.
At a recent hearing of the National Assembly, Minister of Education and Training Phung Xuan admitted the failure of the National Foreign Language 2020 Project. 
Under the project, Vietnam wants most of its students to be able to use a foreign language, especially English, confidently in their study, daily communication, and work by 2020.
dtinews