VietNamNet Bridge – Mathematics professor Ngo Bao Chau, the first Vietnamese to win the prestigious Fields Medal in mathematics in 2010, and Madame Ton Nu Thi Ninh, former Ambassador of Vietnam to the European Union, were among alumni to attend an event in HCMC last Saturday to launch www.francealumni.fr - a social network for those studying in France.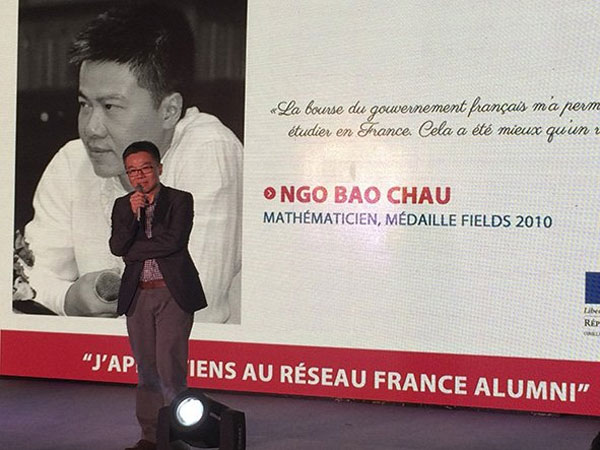 Mathematics professor Ngo Bao Chau, the first Vietnamese to win the prestigious Fields Medal in mathematics in 2010, delivers a speech at the launching ceremony of France Alumni platform in HCMC's District 1 on Saturday – Photo: Kieu Giang
Around 350 alumni and invited guests gathered at the residence of French consul general Emmanuel Ly Batallan for the launching ceremony and enjoy music and fashion performances. The organizer also announced winners of the "France Alumni and Me" video contest at the event.
Other alumni included Dr. Bui Tran Phuong, president of Hoa Sen University, Prof. Duong Nguyen Vu, director of John Von Neumann Institute, writer Duong Thuy, dancesport star Khanh Thi and Ngo Van Luyen, founder and CEO of local mobile game developer DivMob.
According to Prof. Ngo Bao Chau, the establishment of a network to connect France alumni is a good idea. This is where alumni can help each other as well as share their thoughts and lifestyles. "I expect this is an effective tool to enable us to contribute practical things than just have good memories of our past time in France only."
Madame Ton Nu Thi Ninh said, "France alumni have to compete with others who graduate from English-language universities. Thus, an important thing is to equip those students practical knowledge and skills for their own adaptation."
Previously, Laurent Fabius, Minister of Foreign Affairs and International Development, and Geneviève Fioraso, Secretary of State for Higher Education and Research, launched francealumni.fr in the Quai d'Orsay on November 26, 2014.
The network has attracted 16,000 members, 1,300 of them Vietnamese people. This is where people can keep updated of France's schools, universities, companies and cultural offers. Alumni will be able to exchange, access training, scholarship, internship or job offers, and stay informed of French cultural and tourist news. This is also a good opportunity for the international development of French companies and universities to make new economic and academic partnerships with alumni. The platform offers services in French and English.
According to the official site of Campus France, French operator of higher education mobility that powers and manages the platform, every year, about 300,000 foreign students study in France, which ranks the country 3rd in the world in terms of higher education attraction.
The platform is also available for those alumni in Brazil, Germany, Colombia, Gabon, Japan, Jordan, the Philippines, Kuwait and Turkey.    
SGT