VietNamNet Bridge - Vietnamese parents can take their children during the summer to modern and safe playing fields, which require expensive admission tickets, or to free playing fields, which are not safe enough.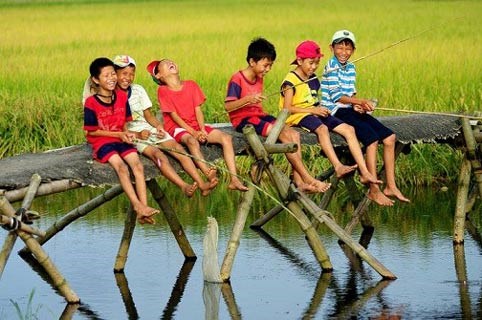 Most of the students in Hanoi began their summer holiday on May 27. While the holiday is a golden time, it is a tough period for their parents. Many parents in cities plan to keep their children indoors all day and not let them go out for fear for insecurity. 

Meanwhile, in rural areas, children will have a 'working holiday' because summer is the time for them to help parents work in rice fields to get money for clothes and books for the next academic year. 

A primary school teacher in Hanoi said that when she asked her third graders at the academic year-end party what they plan to do in summer holiday, a schoolboy said he will have to stay in his house, with the door locked all day.

"I hate summer holiday because I have nowhere to go to spend time. I wish I could go to school to meet friends or go to the sea," the boy said.

"My parents will not allow me to go out while they are away at the office, because they fear I may be kidnapped one day," he explained.

"Few playgrounds for children is one of the most serious problems in large cities," the teacher said.

"The lack of land for playgrounds means many will be playing on the streets, which puts them in danger," she said, adding that this has been a longtime problem for cities in Vietnam.

"Many public playgrounds are unsafe for children. Meanwhile, amusement parks, cultural palaces, summer camps and swimming training classes are unaffordable for poor parents," she noted.

Children in coastal provinces are not afraid of having to stay in house in summer. They know they will have to work hard to ease the workload on their parents.

A sociological survey found that children in coastal areas begin working as early as 6-7.

However, as a primary school teacher in Hanoi said, the biggest concern is from the children who do not work or stay in home. 

As some busy parents do not take care of their children, the kids may get involved in drug addiction or spend all their time playing online games.

"One of my students became addicted to games after a two-month summer holiday," she said.
Poor children need places to play, entertainment
Children in HCM City, especially the disadvantaged, face a shortage of playgrounds and lack access to entertainment programmes despite allocation of funds made by city authorities in recent years.
The city, for example, has spent more than VND40 billion (US$1.9 million) to build nearly 80 playgrounds. But many neigh-bourhoods still lack play space for children.
Nguyen Thi Lien, deputy head of the city's Department of Labour, Invalids and Social Affairs, said the city in 2014 had allocated VND20.5 trillion (US$976 million), an increase of 14 times over 2004, for child protection and care.
Lien spoke at a Listen to Children forum held in the city on Friday, organised by the Association for Protection of Children's Rights in co-operation with the Children Welfare Association and Social Work Centre for Children. More than 100 people attended.
According to a report of the city's Department of Labour, Invalids, and Social Affairs, children's houses in districts have been upgraded and 18 have been equipped with 3D cinemas.
More entertainment programmes are being held, especially for the disadvantaged, but many children lack access.
Also discussed at the forum was the problem of increased school violence.
Attendees said that city agencies should carry out stronger measures to prevent violent incidents to ensure that students fee safe at school.
HCM City has 1.4 million children, 15,000 of whom are disadvantaged. VNS

Nguyen Hien