VietNamNet Bridge – A 57-year-old woman who sells duck eggs and bananas at a rural market in Tien Giang province received a bachelor's degree in law on May 10.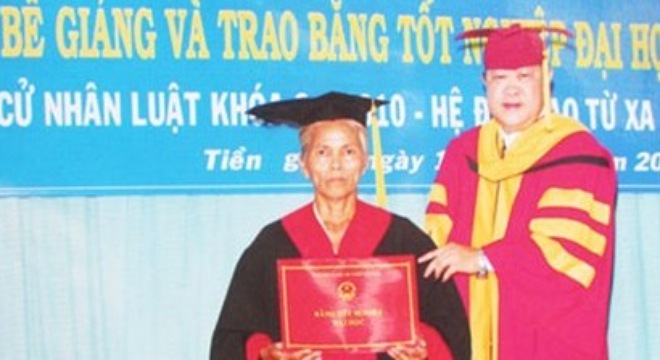 Pham Thi Kim Hoa, a resident of Thanh Lac hamlet in Thanh Nhut Commune in Go Cong Tay district, has four children.
Her eldest son is now a first-year student at the College of Cao Thang in HCM City, and the three others are students at general schools.
She was a former teacher at Thanh Nhut commune kindergarten. In 1999, due to family circumstances, she quit teaching to care for her husband and children. She has pursued many manual jobs, and began work as a duck egg and banana seller in Vinh Binh market.
"In 2007, my younger brother (a mental patient) was beaten to death. Three times at the court, I did not understand the law to properly present my family's case. After many nights of thinking, I went to the Continuing Education Center to enroll in a distance-learning class on law held by the University of Can Tho," Hoa said.
Every day she took documents to the market to study while selling eggs and bananas. She stayed up late at night to study before exams. Each year she had to go to class for several months. During this time she asked her relatives to take care of the egg and banana shop for her.
Her children did not dare have opinions about her studies, but her husband opposed fiercely, saying that Hoa was not a public servant and she was too old to study. Moreover, the family faced financial problems.
To have school fees without affecting the family budget, Hoa collected scraps and waste to earn extra money.
With an old bicycle, she traveled tens of kilometers to get to school to study with young classmates, who are the same age as her children.
She tried hard to overcome backbiting to complete the four-year course. Finally, on May 10, the oldest student in the class – Mrs. Pham Thi Kim Hoa – received a bachelor's degree while several young students were not granted the degree.
Hoa said: "If it is possible, I will study for another six months to become a lawyer to help the poor find justice and give them legal advice for free. But first of all, I understand the law, so my family and I live in compliance with the constitution and the law."
Ap Bac