VietNamNet Bridge - The Ministry of Education and Training's (MOET) decision on banning entrance exams to select sixth graders translates into a declaration of death for schools for the gifted at the secondary level.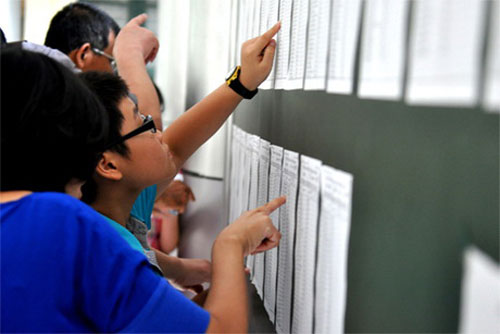 MOET showed in its decision that it would strictly follow the Communist Party's guideline that schools for the gifted at primary and secondary levels must not be organized in Vietnam.
In principle, schools for the gifted will not exist if they cannot select the best students through exams for training. However, it is still unclear if this will happen in reality.
They have existed for many years, though MOET many times has promised to reorganize the education system and remove primary and secondary schools for the gifted.
No one knows what will happen with the Hanoi-Amsterdam School in Hanoi and Tran Dai Nghia in HCM City, if MOET fulfills its plan to eliminate schools for the gifted. Both of them are very famous in Vietnam as producers of talented students, while the two brands have become well known in the world.
The Hanoi-Amsterdam School for the Gifted, like other special schools in Hanoi, has been told by the Hanoi Education and Training Department not to organize entrance exams under any form, including comprehensive tests, to select students.
However, the department's decision will only take effect in Hanoi, which means that only schools in Hanoi have to follow the instruction.
Meanwhile, Tran Dai Nghia School in HCM City is still moving ahead with its plan to test students' abilities to select the best students. 
The plan has got the nod from the HCM City People's Committee, which emphasized that students will only experience "tests", not "exams", and therefore, the school still obeys the MOET's instruction and does not "break the law" as accused.
The test will assess students' English ability.
In order to be eligible for sitting the test to Tran Dai Nghia School, fifth grade graduates need to have a 9 score at least from the year-end math and Vietnamese exams.
As such, there are different ways of interpreting the MOET's instruction on not organizing exams to enroll students for secondary schools. If Tran Dai Nghia School was in Hanoi, its plan would be stopped. However, in HCM City, with "test", not "exam", it still can move ahead as a "green light" has been turned on.
An analyst noted that no matter whether schools organize "exam" or "test", students will still have to overcome a "border pass" to enter schools. This means that they will have to prepare hard by practicing their skills. If so, the MOET's purpose of easing the overload on small children's shoulders remains unattainable.
NLD