VietNamNet Bridge – Educators have been called on to reconsider the "you have to be cruel to be kind" education philosophy which has been applied in Vietnam for hundreds of years.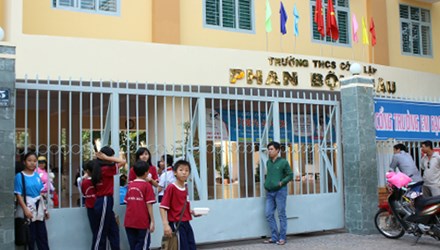 The fact that a sixth grader in HCM City died after she was spanked by a teacher has once again rung the alarm bell over education methods used in Vietnamese schools.
The student died after she was beaten on the rear by a female teacher with a ruler just because she had not learned her lesson.
The Tan Phu district's Education and Training Sub-department has released a document stipulating that all corporal punishment is prohibited and that  teachers violating the regulations will be strictly disciplined.
The ban, a parent commented, would not save the life of the sixth grader, but will help reduce corporal punishment and save the lives of students.
"Forgetting to do home exercises, having private talks during the lessons, or having no private blackboards during math lessons all could be reasons for teachers to beat you with ruler," said a second grader in a suburb district, saying that he got the "ruler" twice on his hands.
In late September 2014, a schoolgirl in Binh Chanh district of HCM City, was spanked just because she was not concentrating during a physical practice lesson.
Prior to that, a third grader in Long An province was hospitalized after he was spanked on the rear because he had not learned the multiplication table by heart.
A parent noted that teachers believe they have the right to punish students and they need to do it to force students to be obedient.
"Vietnamese have the saying 'spare the rod and spoil the child'. Thrashing is believed to be the best education method in Vietnamese thoughts," she said.
"It is the right time for educators to rethink education philosophy," she added. "They must understand that they do not have the right to beat others."
Dr. Vu Lan Huong from the HCM City School of Education Management said the behavior of the teacher who caused the death of the sixth grader showed that Vietnamese teachers lack life skills.
Dang Hoang Oanh, MA, the lecturer of the Vinh City University, while agreeing with Huong that the teachers' misconduct show they do not have necessary pedagogical and life skills, said this should be attributed to unreasonable training curricula applied in pedagogical schools.
"At pedagogical schools, students focus on professional knowledge, while they do not have many hours to practice these skills," Oanh explained.
"This is why many teachers do not have good communication skills. They get embarrassed in some special cases and don't know how to settle problems," she said.
Ngan Anh