VietNamNet Bridge – A sixth-grade schoolgirl has died after beaten on the rear by a female teacher with a ruler.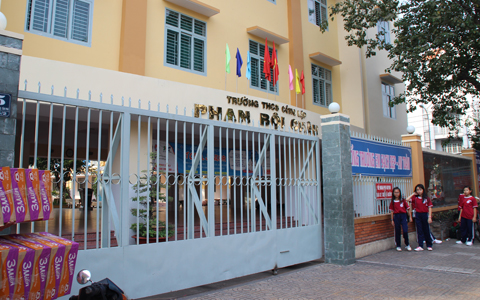 Phan Boi Chau Secondary School
On the morning of January 9, family members, friends and neighbors attended the funeral of Phuoc Hai at a house in Binh Tan district in HCM City. The girl was a student at Phan Boi Chau Secondary School.
Just several days before, Hai and family members had a happy party on the occasion of the girl's 12th birthday.
The incident occurred when Hai could not answer questions during a technology lesson. The teacher then struck Hai with a ruler on her rear end. The girl, who panicked, became unconscious.
However, the teacher thought she was only pretending to faint, and did not do anything to give emergency aid. She only asked friends of Hai's to lead Hai by the hand to her seat.
After the teacher and students discovered that she was unconscious, they tried to bring Hai to hospital. However, Hai died before being hospitalized.
Hai has had epilepsy since she was very young. However, she had been well in the last two years thanks to regular medication. Information about the girl's disease can be found in her school profile.
The death of the girl has caused a public firestorm. Parents have harshly criticized the teacher, who they said was not morally fit to be a teacher.
A parent commented on an internet education forum that beating and punishing students is a "habit" of Vietnamese teachers and a problem in Vietnamese education.
Many young parents have responded warmly to the parents' call for a movement to say "no" to "rod-based education".
Meanwhile, many people have shown sympathy toward the young teacher, who unintentionally caused the death of the student.
"Some spanks on the rear could not have killed her if the girl had been a normal person with no disease," said a teacher at a primary school.
However, it is not the parents who defended Hai or the teacher, but rather Hai's family members.
When asked why he decided not to bring the case to the court, Hai's father said it would not bring his daughter back. He would rather let Hai rest in peace. And he will not push the teacher against the wall.
"She is young and she needs opportunities to live well and become a good teacher," he said.
Chi Mai