VietNamNet Bridge – Though foreign direct investment (FDI) capital declined in the first quarter of the year, economists say Vietnam is benefitting from the shifting of FDI trends, especially from multinational corporations (MNCs).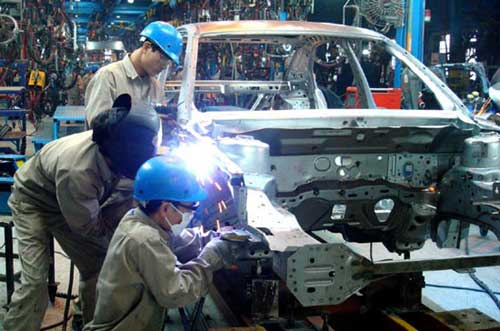 It's necessary to improve the efficiency of FDI (Photo: Dantri)
After the Ministry of Planning and Investment announced that newly registered and increased FDI capital equalled 61.4% and 39.3% of the corresponding figures in the first quarter of 2013, there was growing concern about the prospect of FDI attraction for the whole year.
Several economists even feared there is unfair competition between FDI and domestic businesses when the former outplay the latter in terms of exports, industrial production and services development.
Professor Nguyen Mai, former deputy chairman of the State Committee of Cooperation and Investment, now the Ministry of Planning and Investment, told Vietnam Investment Review domestic businesses are the mainstay of the national economy in international integration.
He said the government needs to introduce more effective solutions to save businesses in difficulty and stimulate business development by heavily investing in technology and human resources, so as to increase the competitiveness of the economy both at home and abroad.
However, Mai agreed international integration requires Vietnam to attract foreign resources such as official development assistance (ODA) and FDI to support national development. Combining internal and external resources is a correct policy of the Party and State that has been carried out during the past more than two decades.
FDI contribution
There is no doubt FDI businesses have made a substantial contribution to economic restructuring, technology transfer, job generation, and human resources training since Vietnam first introduced the Foreign Investment Law in 1987.
Dong Nai and Binh Duong provinces which have drawn large amounts of FDI and achieved two-digit growth recently are facing a serious on-site labour shortage while the country is combating unemployment, even in Hanoi and HCM City – the two big economic centres.
Vietnam has begun obtaining trade surplus since 2012, largely attributed to FDI businesses' impressive performance. In the first quarter of 2014 alone, FDI businesses enjoyed an export surplus of nearly US$4 billion that not only helped strike the country's balance of trade but also create a national trade surplus of US$1 billion.
Vietnam is becoming a big mobile handset manufacturing centre in the world, and thousands of young engineers working in well-equipped research and development centres have the chance to study modern research methods and observe state-of-the-art technologies.
All the same, Professor Mai raised concerns about several shortcomings that need to be addressed soon. In his opinion, most of the FDI projects licensed in the first quarter of 2014 are small. Among the 252 licensed projects, only 5 have total registered capital of nearly US$1 billion, and the remainder have combined registered capital of US$1 billion, or nearly US$4 million each on average.
He said it's time to focus on FDI quality rather than small projects to make the investment environment healthier.
In addition, shortcomings in carrying out investment cooperation models reduce FDI impact on the economy. It's worth remembering that about 70% of FDI businesses established in the 1990s were operating in the form of joint venture companies, and this model proved effective, improving the operational efficiency of the JVs.
Yet, the investment landscape has changed since the start of the 21st century, with more than 80% of businesses wholly foreign invested. Vietnam attracted US$3.334 billion in FDI in the first quarter of 2014, of which US$214 million (or nearly 6.5%) was invested by JV businesses.
Therefore, Professor Mai underlined the need to fix the maximum level of capital ownership of foreign investors in a certain number of industries and services.
On the other hand, FDI attraction is spontaneous in a number of industries such as cement, steel, as well as in industrial and economic zones, causing a growing imbalance in the market law of supply and demand, causing a big loss to the economy.
The Ministry of Planning and Investment reports 10 localities have asked the government to build foreign invested integrated resorts, though no research has been done on advantages and disadvantages of these projects.
FDI shifting trends
Despite a considerable fall in FDI in the first quarter, Mai said Vietnam still has the chance to lure FDI to high technology, high-end services, and support industries.
Vietnam has political stability and security, high economic growth potential, and cheap labour costs compared to other regional countries like Thailand or Malaysia.
Malaysia recently changed its FDI policies, targeting domestic business development. Meanwhile, Thailand's political instability, increased labour costs, and severe floods forced foreign investors to move their production bases to other countries.
China, the world's second largest economy that has attracted approximately 50% of FDI into developing countries, is meeting a big challenge for investors from the US, Japan, Europe and the Republic of Korea, resulting in the China + 1 policy.
Judging from the current context, Vietnam is considered a good choice for opening key production bases by several leading multinational corporations (MNCs).    
Samsung Electronics is a case in point. The Republic of Korean electronics manufacturer got off to a good start with a mobile phone plant in Bac Ninh province in 2007 with initial registered capital of US$650 million. Its capital has increased fourfold during the past seven years to more than US$2.5 billion in 2013.
Together with another US$2 billion mobile phone plant project in Thai Nguyen province and a Hanoi-based research and development centre accommodating 800 engineers, the company's revenue made up 15% of Vietnam's total export earnings in 2013, and mobile handsets became the No1 export item.
Worthy of note is that these Samsung-invested projects moved from neighbouring countries to Vietnam, not from the Republic of Korea.
In an endeavour to improve the quality and efficiency of FDI use and management, according to Professor Mai, Vietnam needs to seek ways to attract FDI from MNCs to high technology, modern services and support industries.  
Source: VOV