VietNamNet Bridge - The bauxite factories of Tan Rai and Nhan Co can be equitized in 5-7 years, says a senior official from the Ministry of Industry and Trade.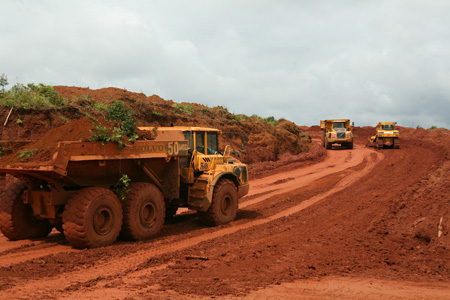 The efficiency of the Central Highlands bauxite projects was again mentioned in a regular press conference of the Ministry of Industry and Trade on Monday.
Deputy Minister Do Thang Hai confirmed that the Tan Rai project will take losses in the first five years and needs 12 years to recover its investment capital. The corresponding times for the Nhan Co project are seven and 13 years.
By the end of 2013, Tan Rai had exported more than 160,300 tons of alumina to Switzerland, Hong Kong, South Korea and Singapore. The export price was nearly $300 per ton, $79/ton less than the expected price.
It was explained that earnings from alumina were lower than earlier expectations because the size and quality of Vietnam's alumina is below the world's standards, and the factory is still in the trial operation phase.
Hai said that the selling price of Vietnam's alumina is low at present, but in future the price will increase and markets will also be expanded. The projects are feasible because their projected lifespans are calculated at 30 years, but the ore reserves can be exploited for up to 50 years.
"The time of equitization depends on actual conditions. However, according to the schedule, 5-7 years after a period of loss, the equitization may be carried out," Hai said.
Mr. Bui Quang Chuyen, Deputy Head of the Department of Heavy Industry of the Ministry of Industry and Trade, said the Ministry was reviewing these projects to make tax and fee-related proposals.
To produce one ton of alumina, according to Chuyen, 5-6 tons of bauxite are needed. According to the Value Added Tax Law, processed minerals for export are subject to a zero percent tax, so the Ministry had proposed a zero percent VAT rate for alumina.
Bauxite ore is subject to an environmental fee of VND30,000 to VND50,000 per cubic meter, equivalent to the exploitation cost of one ton of bauxite and 20-30 times higher than soil and rock mining.
Officials of the Department of Heavy Industry said that this fee is too high and suggested it be slashed to the same level as that for other minerals.
Na Son