VietNamNet Bridge – Vietnam not only covets the massive amounts of capital brought in by big foreign investors. It aims to many more things when trying to attract foreign invested mammoth projects.
Jobs for domestic enterprises and technology transfer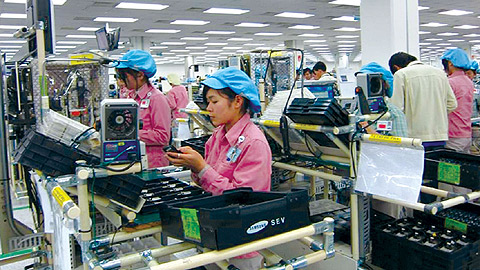 Vietnam rolled out a warm reception to Samsung when it expressed its wish to do long term business here. The South Korean electronics group was offered a bounty of attractive investment incentives.
After nine years of enjoying those perks, Samsung has begun paying taxes and has shown its determination to make a long term investment in Vietnam.
What did Vietnam expect when laying the red carpet to Samsung? Prof Nguyen Mai, former Chair of the State Committee for Cooperation and Investment, and now Chair of the Foreign Invested Enterprises' Association, commented that what Vietnam needs to do is to take full advantage of the opportunities offered by Samsung's presence to develop the national economy.
According to Mai, Vietnam hopes, through services and goods supplied to the manufacturer, to be able to create 20 percent of the value of Samsung's export total.
To take 2013 as an example, in which Samsung's export value amounted to $20-23 billion, that would mean a Vietnamese share of over $4 billion. If, on average, every Vietnamese enterprise, acting as satellite company for Samsung, could earn $5 million, then the Samsung "ecosystem" would support some 800 companies.
Dreams don't always mix well with reality, however. The fact is that such a goal may not be so easy to achieve. For instance, of the 68 mobile phone accessories suppliers in Vietnam, 48 are foreign-invested enterprises. This means that the number of Vietnamese enterprises which can provide accessories to the mobile phone manufacturers remains very modest.
"How can we master Samsung's advanced technologies?" Mai questioned, adding that this is exactly the thing Vietnam needs to do. "If Vietnam fails in this, it would be able only to attract several trillions of dollars worth of FDI, and no more."
In the automobile industry, only two out of the 12 car part suppliers to Toyota are Vietnamese enterprises – the Hanoi Plastics Company and EMTC, a mechanical engineering company.
Truong Chi Binh of the Industrial Policies Institute has warned that foreign investors may come to Vietnam just to enjoy the big investment incentives -- and then leave for greener pastures once the grace periods expire.
"If Vietnamese enterprises cannot capitalize on the technology transfer and absorb the corporate governance skills that the foreign investors offer, the story of foreign investment attraction would be pointless," Binh said.
Vietnam has already tasted the bitterness that Binh warns about. Sony, the Japanese electronics group, enjoyed 14 years of a highly advantageous business environment in Vietnam, then shuttered its factory and left Vietnam in 2008.
Would the big guys help develop supporting industries?
Mai said he places high hopes on the project of building up a complex of supporting enterprises providing accessories and auxiliary parts to Samsung. This is a part of the project to be implemented with the cooperation with the Bac Ninh provincial authorities.
It is expected that the project will attract the interest of 500-700 Vietnamese enterprises, of which 50 will be chosen to work with Samsung for six months in a trial period.
A similar project in HCM City has been proposed by Mai, under which a complex would be developed to provide supporting parts to Intel.
Pham Huyen