VietNamNet Bridge – A recent survey found that many firms in Vietnam prefer to ask gangsters' help to collect debts because of cumbersome legal proceedings and lack of efficiency of law enforcement, one official said.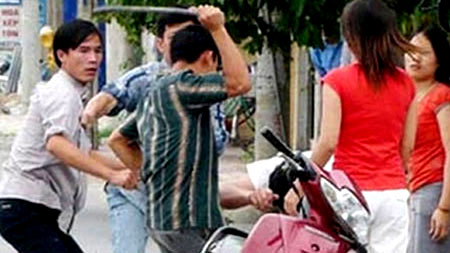 Many enterprises opt to ask gangsters for help in collecting debts. 
Dau Anh Tuan, head of the Vietnam Chamber of Commerce and Industry (VCCI)'s Legislation Department, said in a recent interview that the survey showed that many enterprises collect as much as 90% of their debts using the services of gangsters, compared to only 50% with legal enforcement.
Could you please talk more about the survey and the basis for such conclusions?
The survey was recently released at a seminar in Hanoi to collect opinions on the draft amended Law on Enforcement of Civil Judgments in 2008. In order to prepare for the seminar, VCCI conducted an intensive survey of lawyers, debt collection companies, executors, legal experts along with ten enterprises that had been civil plaintiffs and five enterprises that were defendants.
The survey found that enterprises have three options to collect their debts: legal proceedings, legal debt collection services and hiring gangsters. Each have differing fees and rates of success.
It takes average 400 days to follow through on legal proceedings, at a cost equivalent to 20%-30% of the debt and about a 50% success rate.
However, using gangsters, enterprises can often collect as much as from 80-90% of their debts in one month or so at a cost of between 40% and 70% of the debt.
Do you think these findings reflect reality?
Well, this was just a small survey conducted over a short period of time to shed some light on the matter at the seminar. Anyone who uses the findings should keep this in mind. It's difficult to say whether the findings fully describe the real situation.
However, I do think that this shows a worrying trend. If legal proceedings are too complicated, costly and ineffective, it could effect business in this country. Several enterprises questioned said that they were still facing many difficulties in debt collection, despite having gone through the legal process. This has wiped out people's confidence in legal assistance and encouraged them to find unofficial ways to collect their debts.
Why would enterprises believe in gangsters' ability to collect debts rather than legal proceedings?
I think that this is a result of the higher efficiency of the unofficial services. The success of legal enforcement is not high. A report by the General Department of Civil Judgment Enforcement showed that the rate of success in several localities across the country, especially Hanoi, Haiphong, and HCM City is rather low, averaging at only 30%.
In addition, legal procedures are complicated and time consuming. Three out of ten surveyed enterprises said they would not bring their cases to court next time.
What does this mean and how will it affect the development of a law-based society?
I think that enterprises are not really prone to use unofficial debt collection services. It's illegal and dangerous. Recently, several people opted to violently attack thieves or beat petty criminals to death instead of going to police. This raises questions about our law enforcement.
Do you think that extra fees and "greasing the wheels" during legal proceedings also has an effect?
It's true that unofficial fees during legal proceedings have affected the efficiency of judgements and impacted the prestige of legal agencies.
A VCCI's survey on over 8,000 enterprises and household businesses in 63 cities and provinces nationwide in 2012 showed that hundreds of enterprises did not use legal means to deal with their disputes. Over 53% of such enterprises said that they found better solutions to their issues, and 16% of them said that they did not ask for legal assistance due to the high rate of corruption during legal proceedings.
DTriNews/PLTPHCM