VietNamNet Bridge – At least four textile and garment Chinese companies have registered their large-scaled investment projects in Vietnam over the last month.
More Chinese in Vietnam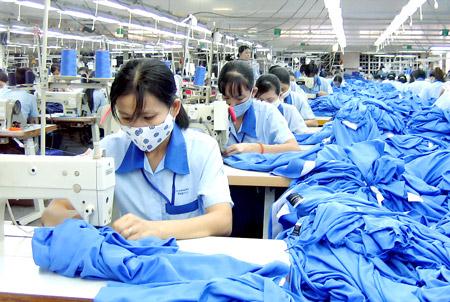 Yulun Jiangsu Textile & Garment has got the investment certificate on a fiber production, textile and dying factory to be located in Bao Minh Industrial Zone in Vu Ban district of Nam Dinh province, capitalized at $680 million.
According to the Nam Dinh provincial Industrial Zone (IZ) Board of Management, the factory, covering an area of 8 hectares in Bao Minh IZ, would become operational from mid-2016.
A Hong Kong investor has expressed the intention of developing a textile and garment IZ on an area of 1,000 hectares in Nghia Hung district. The Nam Dinh provincial authorities are considering the project before submitting to the government.
Meanwhile, in HCM City, Forever Glorious, a subsidiary of Taiwanese Sheico has committed to invest $50 million in a project on making high end underwater sportswear. The project, located in Dong Nam IZ, would generate 3,550 jobs.
Gain Lucky Ltd, a subsidiary of Shenzhou International Group, specializing in making products for the world's big brands like Nike, Adidas and Puma, has committed to invest $140 million in a project in HCM City.
The Chinese investment wave in Vietnam is foreseeable. Experts have predicted that Chinese would flock to Vietnam to set up textile and garment factories to take full advantage of the TPP (Trans Pacific Agreement) of which Vietnam is a member.
What do Chinese want in Vietnam?
Dr. Alan Phan, who is believed to have good experiences about Chinese economy, commented that Chinese are seeking suitable places to make investments in, as the Chinese economy is predicted not to get big gains in comparison with the last year.
He said Chinese try to expand their investments in Vietnam, the nearest country, like Vietnamese who would try to pour money into Laos and Cambodia if they have money. Textile & garment is not the only sector Chinese would inject money in.
Dr. Le Dang Doanh, a well-known Vietnamese economist, has also noted that Chinese businesses have bought more and more stakes of the Vietnamese businesses in difficulties which have to call for more investments.
However, he has warned that the companies would turn into Chinese companies, if Chinese can buy the amounts of stakes big enough to control the board of directors.
"If Chinese successfully control Vietnamese companies, this may become an instrument to implement the policies on exerting their influences and controlling the Vietnamese market," Doanh said.
Pham Chi Lan, also a well-known economist, said at a recent workshop on the economic policies in 2014 that by trying to attract as more foreign direct investment as possible, its economic sectors would fall into the hands of foreigners.
If foreigners are allowed to buy real estate in Vietnam like Vietnamese, Vietnam would become the country of South Korean Lee or Kim families, or Chinese Deng families. By that time, Vietnamese would have to live in the houses they lease from Korean or Chinese landlords in their home country.
Lan also said she feels worried about the presence of so many Chinese people in the central province of Ha Tinh, which she believes would not only cause big socio-economic problems.
Dat Viet