VietNamNet Bridge – The Vietnamese labour market this year will see just a 6-8 per cent salary increase due to the sluggish economy.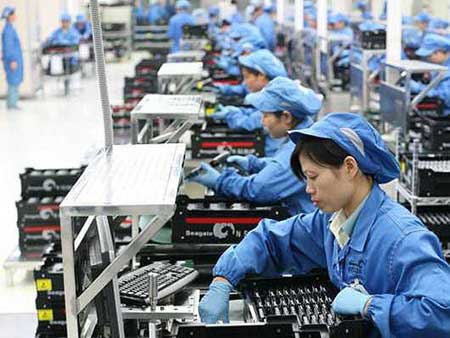 Vietnamese workers.—File Photo
The forecast was made by Nicola Connolly, chairwoman of Eurocham's Human Resources and Training Sector Committee.
At a press briefing in HCM City on January 9, she said that minimum wage insurance in Q3 of this year is expected to reach VND3.2 million ($152.3).
The outlook for the Vietnamese labour market is contingent on various global trends – high unemployment rates, production shifts, the increasing skills gap and shortage, freelancing become an ever more normal way of life and the internet which is creating a larger marketplace for jobs.
She said it will be harder for new entrants in the workplace to find jobs. The recruitment cycle will become longer, and more focus on the right hire. Existing non-performers, metrics on productivity and return on investment will all gain greater importance.
There will also be challenges, including the development of human capital, and the reform of existing training and education to better meet demand for skilled labour.
Connolly said that the five hot industries this year are automotive, healthcare, IT and insurance and the top five specific positions are sales, accounting&finance, HR&admin, marketing and customer service.
Within IT, programmer/developer, system analyst/ business analyst, system engineer, IT support, project manager and Enterprise Resource Planning consultant were all popular positions.
In engineering, civil engineer, maintenance engineer, safety officer, electrical engineer and production engineer were the top roles, while in finance, finance directors, risk and compliance officers, accountants and analysts were the most in demand.
Source: VNS