VietNamNet Bridge – A memorandum of understanding for co-operating in developing HCM City's semi-conductor industry was signed last Friday.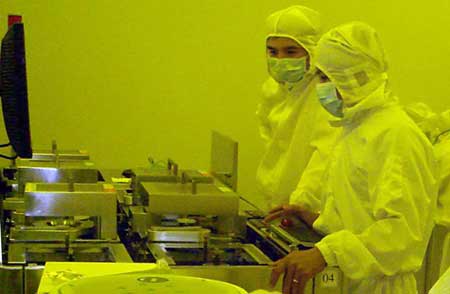 Semi-conductors are produced at Sai Gon Hi-Tech Park Board of Management's ICDREC, which is working with VDEC to develop HCM City's semi-conductor industry. 
The MoU was signed by HCM City's IC Design Research&Education Centre (ICDREC) and Japan's VLSI Design and Education Centre (VDEC) under the University of Tokyo.
Under the MoU, the two sides will exchange staff, conduct joint researches and education programmes, exchange missions and students, engineers and experts for research work and jointly manufacture products for commercial purposes.
For its part, VDEC will create favourable conditions for ICDREC and other research and education organisations from Viet Nam to establish relations with organisations under universities in Tokyo in particular and Japan in general.
Similarly, ICDREC will help VDEC establish links with Vietnamese research and education institutions as well as semi-conductor companies in Viet Nam.
The latest MoU follows the Japanese delegation's visit to HCM City and the signing of an earlier MoU on the same topic early this month.
Japanese firms seek investment opportunities in Binh Duong
A Japanese enterprise delegation led by Nakagaki Yoshihiko, Vice President of the International Friendship Exchange Council of Japan (FEC), had working session with People's Committee of Binh Duong Province on November 25.
They inquired into the local economic development over the years, requirements for foreign investment and electricity supply for industrialization and urbanization.
Le Thanh Cung, Chairman of the provincial People's Committee, answered all their questions and confirmed that the province is giving priority to the key areas such as electricity, electronics, precision engineering, basic chemical industry, and support industries, medical - pharmaceutical equipment, and high-quality food processing.
He added that the province is clearing about 4,000 ha of land for projects, mostly involving Japanese businesses in 2014.
The Japanese delegation made a fact-finding tour of the Investment and Industrial Development Corporation (Becamex IDC) in the province.
Currently, Japan has 204 projects operating in Binh Duong with a total capitalization of US$4.2 billion.
Source: VNS/VOV