VietNamNet Bridge – The Ministry of Transport (MOT) has proposed to apply a series of measures to help shipping firms ease their difficulties and regain the maritime transport market from foreign agents.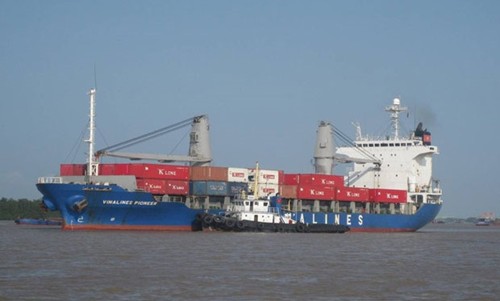 According to MOT, Vietnam's fleet now can carry 10 percent of the Vietnamese imports and exports and 80 percent of container goods between domestic ports. As such, the target of satisfying the domestic maritime transport demand and increase the imports & exports transport market share to 27-30 percent remains far away.
Vietnam has ships in excess, but still has to charter ships
According to the Vietnam Maritime Bureau, by June 2013, the fleet flying the Vietnamese flag had comprised of 1,755 ships with the total tonnage of 7 million DWT. Besides, there had been 64 Vietnamese ships flying foreign flags with the total tonnage of 8 million DWT.
Experts believe that the Vietnamese fleet is not as small as thought.
However, of the 1,755 ships, only 55 can serve on international routes. Among the container ships, only two have the capacity of 1,700 TEU, while the others less than 1,000 TEU. Especially, Vietnam does not have specialized ships for carrying cement, chemicals or liquidized gas, according to Do Duc Tien, Deputy Head of the maritime bureau.
Vietnam has many ships, but the shipping agents don't have many jobs to do, because the foreign partners in the trade deals always get the right to choose insurers and shipping agents.
As a result, a lot of ships become redundant and they have been leased to foreigners at low fees. Meanwhile, import and export companies have to use foreign firms' services, or foreign ships.
According to the deputy general director of a leading shipping firm, Vietnamese importers and exporters don't have the right to choose shipping firms because they buy goods under the mode of FOB (free on board) and sell under CIF mode (cost, insurance, freight). It is foreign businessmen who can choose shipping firms.
Even when Vietnamese import and export companies have the right to choose shipping firms, they would not choose Vietnamese firms because they don't think Vietnamese can provide high quality services.
"Not only imports, but the exports in large quantity such as rice, crude oil, coal also have been carried by foreign shipping firms," he said.
MOT vows to regain the maritime transport market
MOT believes that in order to settle the current problem, it is necessary to help Vietnamese firms obtain more orders, especially from Vietnamese clients.
The ministry has proposed that in carrying the goods which are the nation's natural resources, Vietnamese shipping firms need to get the priority in providing services.
In order to turn the solution realistic, the relevant ministries and state owned economic groups such as coal, mineral, food and petroleum enterprises, need to discuss the solutions that encourage importers and exporters to choose Vietnamese shipping agents. Goods owners need to be encouraged enough to negotiate for the right to choose shipping agents in economic contracts.
Bui Viet Hoai, Deputy General Director of the Vietnam National Shipping Lines (Vinalines), has proposed to reduce the entry/exit port fee. Meanwhile, MOT has proposed to impose the import tariff of zero percent on material imports to repair or maintain ships, impose the 5 percent VAT on the ships flying Vietnamese flag for three years.
Chi Mai