VietNamNet Bridge – Viet Nam's trade balance reached a US$100 million surplus for the month of October, according to the General Department of Customs, defying previous forecasts of a $200 million trade deficit.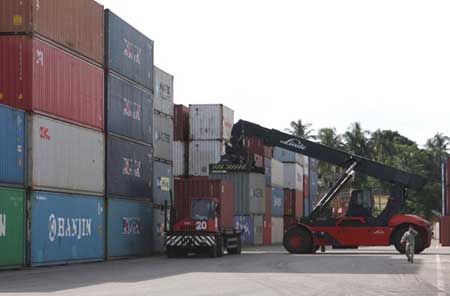 Containers being loaded at Tien Sa Port in central Da Nang City. Viet Nam ran a trade surplus of US$100 million in October. 
The marked improvement helped narrow the total trade deficit for 2013 to $145.5 million.
The country's total import-export turnover in the first 10 months of the year hit $108.72 billion, a rise of 16 per cent on 2012.
Statistics from the Customs department showed Viet Nam's export turnover last month hit $12.61 billion, surging 12.8 per cent on September, while import turnover was $12.51 billion, an 11 per cent increase.
Total import-export turnover last month reached $25.12 billion, which was also a 12 per cent leap from September.
The department said the return of a trade balance surplus was due to a surge in exports of key items in the second half of last month, including mobile phones (up $295 million), crude oil ($216.6 million), shoes ($174.12 million), aquatic products ($145.2 million), computers and spare parts ($116.1 million) and garments ($104 million).
However, exports of steel and rubber fell during the final two weeks of October.
Viet Nam's import staples - including machinery and equipment, spare parts and crude oil – were up 16 per cent against the same period last year, according to the official data.
The spike was due to increases across a range of products, machinery and equipment ($152 million), fabric ($150 million), steel ($92.4 million) and crude oil ($91 million).
Imports of mobile phones, spare parts and cattle-feed decreased in the second half of last month.
The department said foreign direct investment (FDI) enterprises continued to be a driving force in import-export activity, as the sector recorded export revenues of $66.71 billion for 2013 so far, surging 28.3 per cent year-on-year and accounting for 61 per cent of the country's total export value.
FDI brought in $61.94 billion in import revenues in the 10-month period, up 25.6 per cent from last year and accounting for 56.9 per cent of the total import value.
Source: VNS