VietNamNet Bridge – Vietnamese businesses are still vague about the ASEAN Economic Community (AEC) – of which Vietnam is a member, though the community would form up in just two years.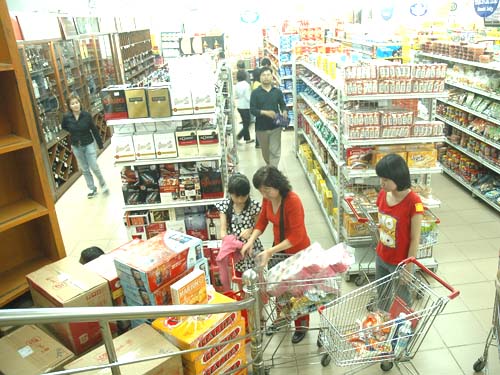 Businesses still vague about what AEC means
AEC is expected to be a vast market with 600 million consumers and the GDP of $2.2 trillion.
It is really worrying that though AEC would have big impacts on the society and national economy, the awareness of Vietnamese people and businesses about AEC remains limited. A report released recently by the ASEAN Network Forum in Singapore showed that less than 20 percent of businesses in ASEAN countries know how they should prepare for the community.
In Thailand, small and medium enterprises have begun receiving the government's support to prepare for joining AEC. Thai trade ministry has announced the plan on assisting small and medium enterprises to boost exports to ASEAN markets, and help solve the difficulties when Thai do business in neighboring countries.
The government of Indonesia has been stepping up its communication campaign to explain the benefits and opportunities that AEC can bring to enterprises, so that Indonesian businesses can best prepare to grab the opportunities.
In Vietnam, only big enterprises, which have been exporting products to ASEAN markets, or have been running investment projects in ASEAN countries, can say they understand the ASEAN market well. Meanwhile, small and medium enterprises still don't have any knowledge about it.
Big challenges
Sunhouse, a household goods manufacturer, planned to export its products to ASEAN market three years ago. However, to date, its products have been present only in three markets – Laos, Cambodia and Myanmar. The export volume is modest, just equal to 5-10 percent of the local consumption.
According to Nguyen Xuan Phu, President of Sunhouse, Vietnamese goods still don't have strong brands, which is a big disadvantage. Therefore, the thing that Vietnamese businesses need to do now is to prove that their products have competitive prices, high quality and good design.
The sugar industry is believed to suffer heavily from the market opening. Sugar companies are now facing big difficulties not only in foreign, but in the home market as well.
A report of the Vietnam Sugar and Sugar Cane Association showed that by the end of August 2013, the companies still had had 288,000 unsold tons of sugar. The sugar smuggling through the border gates has made it more difficult to clear the inventories.
Nguyen Thanh Long, Chair of the Sugar and Sugar Cane Association, said though Thai imports bear the 5 percent tax rate, they are still VND2,000-3,000 per kilo lower than Vietnam made products.
If the import tariff is cut to zero percent by 2015 as committed for AEC, Thai sugar would flood the Vietnamese market. By that time, Vietnamese sugar companies would face bigger challenges.
Vietnam has been recognized as one of the four members which have best fulfilled the commitments they made when joining AEC. To date, Vietnam has cut the import tariffs on 10,000 categories of tax to 0-5 percent, or 98 percent of the total tax categories within the framework of ATIGA (ASEAN Trade In Goods Agreement).
The Asian Development Bank (ADB), in the report on the economic integration in Asia, said the building up of AEC is still going slowly.
Compiled by C. V