VietNamNet Bridge – At least two leading automobile manufacturers in the world have decided to cancel their development projects in Vietnam because of the weak supporting industries in the country.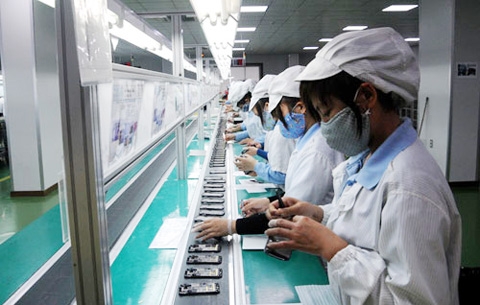 Mazda and Ford have canceled the $700 million and $1 billion automobile production projects in Vietnam just because they found that they cannot find suitable car part suppliers in Vietnam. The projects have been developed in neighboring countries instead, from which cars are imported to Vietnam at high prices.
The current Vietnamese supporting industries comprise of Japanese and South Korean invested enterprises, and the enterprises from Taiwan. Meanwhile, only a few Vietnamese businesses get involved in the industries.
Vietnam began developing the automobile industry 20 years ago, but the automobile supporting industries have not developed over the last 20 years. Only 5-10 percent of car parts, mostly simple ones, can be made in Vietnam.
A report by the Japan External Trade Organization (Jetro) showed that Japanese enterprises can buy only 28 percent of the materials and accessories needed for their production in Vietnam. Meanwhile, the figures are 43 percent in Indonesia, 53 percent in Thailand and 61 percent in China.
In electronics manufacturing, Canon and Samsung, still have to import input materials and parts from China and other countries because they cannot find the things they need in Vietnam.
Experts believe that Vietnamese supporting industries can satisfy 15-25 percent of the demand for input materials and accessories from domestic and foreign enterprises.
According to Nguyen Hoang, Chair of the Hanoi Association of the Enterprises in Supporting Industries, the current Vietnamese supporting industries are compared with that in Japan in 1930s and 1940s, and in Malaysia in 1970s and 1980s.
Mazda has finally chosen Thailand for its investment destination though it initially planned to pour $700 million into the production base in Hanoi.
Hoang said that Vietnam should learn a lesson from the Mazda's leave and realize that it is an urgent need to set up satellite companies which can provide supporting products not only to Mazda, but to all the foreign groups investing in Vietnam.
Before Mazda decided to leave Vietnam, Ford also reportedly gave up the intention of investing $1 billion in the project on developing a South East Asian production base in Vietnam for the same reason. The project has been developed in Thailand instead. From the production base, Ford's cars have been exported to many South East Asian countries, including Vietnam.
Dr. Tran Dinh Thien, a well-known economist, has stressed that Vietnam needs to change its viewpoint about the supporting industries.
"Supporting industries should be considered as the industries that constitute the platform of modern industries," Thien said. "For a long time, supporting industries have been thought as the industries playing unimportant and auxiliary roles in the industrialization, which don't need special treatment."
In the latest news, Hansiba, the association of the enterprises in supporting industries has made debut. In the immediate time, each of the member enterprise strives to have the turnover of VND50 billion a year, employs 100 workers in 2014-2018.
The association hopes its members can create 50,000 jobs by 2018 and pay VND2.5 trillion in tax to the state budget. From now to 2020, Vietnam would focus on developing the supporting industries for five sectors including textile & garment, electronics & information technology, leather and shoes, mechanical engineering and automobile manufacturing.
D. Anh