VietNamNet Bridge – Not only Vietnamese traditional hand made or farm produce, but modern high technology products have also deluded Japanese customers.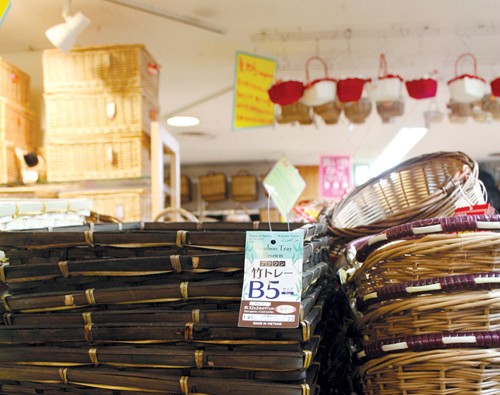 According to the Industry and Trade Information Center, Japan is now the third biggest foreign partner for Vietnam, after China and the US.
The Vietnam – Japan two way trade turnover was $27 billion in 2012, an increase of 50 percent over 2008, and reached $18.3 billion in the first nine months of 2013.
Of this amount, Vietnam exported $9.87 billion worth of products and imported $8.45 billion from Japan. As such, Vietnam's excess of exports over imports reached $1.42 billion.
Also according to the Vietnam Industry and Trade Center, Vietnam exports a wide range of products to Japan, including the categories of products with the turnover of over $100 million. Garments, crude oil and vehicle parts are the Vietnamese biggest export items with the turnover of $1.74 billion (17.66 percent of total turnover), 1.51 billion (15.31 percent) and $1.35 billion (13.63 percent), respectively.
IPA, the Japan information technology promotion agency has released a report showing that Vietnam has surpassed India to become Japan's second biggest partner, which implemented 23 percent of Japan offshore orders.
Since late 2012, Japanese enterprises have been flocking to Vietnam in a new wave to seek partners in South East Asia. Since 2009, Vietnam has always been recognized as a Japanese favorite partner with 31.5 percent of Japanese firms' votes (India got 20.6 percent and China 16.7 percent).
With the big advantages in the low production costs, high quality labor force and tax incentives, Vietnam has attracted some 80 information technology firms to Vietnam, which make up 19.2 percent of the Japanese software apps developed overseas.
It is expected that 20 more Japanese companies would arrive in Vietnam by the end of the year.
Vietnam has also attracted Japanese as a tourism destination. According to the Vietnam National Administration of Tourism (VNAT), the Japan Association of Travel Agents (JATA) has convened its members in Vietnam and took fact-finding trips to some tourism destinations in Vietnam.
This was for the first time JATA held its board of directors' meeting overseas, while Vietnam was chosen as the destination.
JATA has been known as the organization gathering Japanese leading travel firms which have big impacts on the market. According to VNAT, JATA considers Vietnam a key market. Its member travel firms plan to bring Japanese tourists to Vietnam on the air routes from Japan to Da Nang, Quang Nam and Thua Thien – Hue in the central region.
The Vietnam – Japan Tourism Cooperation Committee has also convened in Vietnam. At the meeting, the two sides reaffirmed the cooperation on boosting tourism between the two countries.
The Vietnamese side hopes it can attract 1 million Japanese travelers by 2015 in comparison with 600,000 travelers in 2012. Japan hopes to receive 200,000 by that time, in comparison with 55,000 last year.
The national flag air carrier Vietnam Airlines has joined forces with travel firms to carry out the tourism promotion activities in Japan. It is expected that the travelers would feel more convenient when flying from Tokyo to Vietnam, since Vietnam Airlines' aircraft can land  at Haneda airport in Tokyo.
DNSG