VietNamNet Bridge – While foreign textile and garment companies have geared up with their investment plans in Vietnam to prepare for the Trans Pacific Economic Partnership (TPP) agreement, Vietnamese businesses have been staying put.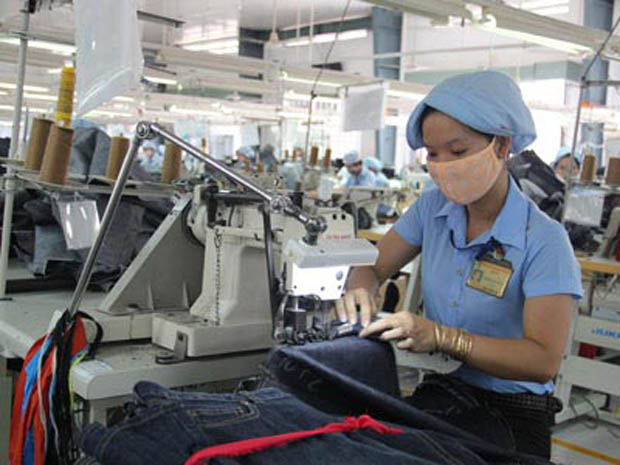 The Vietnam Textile and Apparel Association (Vinatas) has noted the growing tendency of foreign importers seeking supply sources in Vietnam instead of China.
Vietnam's textile and garment exports now can only satisfy 3 percent of the total demand in the globe. Meanwhile, China, which is called the world's garment factory, provides 50 percent of the total products.
This means that if only 5-10 percent of the orders placed with Chinese companies moves to Vietnam, Vietnamese companies would have a lot of jobs to do, according to Nguyen Duc Thang from Dap Cau Garment Company.
Analysts believe that foreign importers, sooner or later, would seek Vietnamese supplies, since China is changing its economic development policy, prioritizing the investment projects in high technologies.
Moreover, Chinese labor cost has become twice as much as Vietnamese, which has prompted foreign importers to look for other partners which can provide products with more competitive prices.
The expected zero import tariff--once Vietnam becomes a member of TPP, has made it more attractive in the eyes of textile and garment investors. They have been flocking to Vietnam to take full advantage of the agreement.
According to the Dong Nai Industrial Zone Management Board, 54 foreign invested enterprises have decided to expand their investment scale so far this year, including tens of projects in the textile and garment sector.
Texhong Nhon Trach, a Hong Kong invested enterprise, has decided to scaled up the production from 11,000 tons of products to 35,000 tons.
The South Korean Hyosung Company in April 2013 increased the production scale from 13,300 tons a month to 14,200 tons. Prior to that, in April 2012, it raised the investment capital by $141 million to $892 million.
Meanwhile, Vietnamese enterprises have reportedly taken no move to grab the opportunities to be brought by TPP.
Thien Nam Company has four spinning factories in the industrial zone in Binh Duong province with the capacity of 150,000 spindles, which put out 25,000 tons of yarn of different kinds every year. 80 percent of the factories' output has been exported.
In the latest news, Thien Nam is still conducting negotiations with a Chinese business on the establishment of a joint venture which would make woven fabric capitalized at $20 million.
The Gia Dinh Textile and Garment Company once planned to build a yarn factory in Tan Tao Industrial Zone in HCM City which has the expected investment capital of VND400 billion.
However, the company has postponed the project for many reasons, including the lack of capital.
Analysts commented that foreign enterprises have more advantages than Vietnamese ones in the race for TPP. They have warned that Vietnamese may not be able to take full advantage of TPP, even though Vietnam is believed to be the biggest beneficiary among TPP member countries.
If Vietnamese enterprises focus on making high grade fabric, they would have to make heavy investments on factories and technologies. Meanwhile, medium class products may not be uncompetitive with Chinese products.
K. Chi