VietNamNet Bridge – The Nhon Hoi refinery project worth $25-30 billion continues to attract the attention of foreign investors, as CEO Igor Soglayev of Sarvors, a subsidiary of the Rosneft Group (Russia) announced the intention to join this huge project.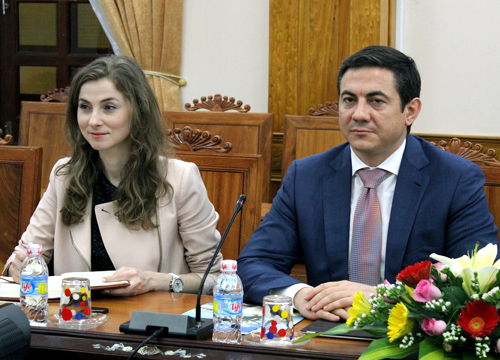 Igor Soglayev at the meeting with leaders of Binh Dinh province.
Rosneft is the leading oil group in Russia, with 75 percent of the capital owned by the government and the remaining 25 percent belongs to BP Group and profits of about $11.1 billion in 2012.
At the meeting with Binh Dinh province's officials last week, CEO Igor Soglayev of Sarvors – a subsidiary of Rosneft – said that the company was considering investment in the Nhon Hoi refinery project. Rosneft worked with Thailand's PTT Group – the owner of the project, and saw this as a feasible project and is willing to become a strategic partner in the project.
At the meeting, Igor Soglayev raised three issues of concern in the project. It is the transparency of the incentives for the Nhon Hoi Economic Zone and petrochemical projects, the infrastructure and working conditions.
"The Nhon Hoi Refinery Project will need capital of not less than US$25 billion, the number of permanent workers of up to 20,000-30,000, so it must have complete infrastructure in all fields, including the support from the Vietnamese Government and Binh Dinh authorities as well as the completeness of the formalities...," he said, adding that he was also strongly interested in the ability to expand the project in the future.
"An oil refinery project cannot be implemented faster than three years but it should not be later than five years. Ideally, Nhon Hoi refinery - petrochemical project needs to go into operation in 2018," he said.
The questions of Igor Soglayev were answered by Chairman of Binh Dinh – Mr. Le Huu Loc. Loc said the Vietnamese government gives preferential policies for the Nhon Hoi Economic Zone while the infrastructure and natural conditions in this zone are very favorable. This area also has a deep-sea port. The area devoted to the refinery of 12,000 hectares also meets the demands of the next phase of the project.
Igor Soglayev said that Rosneft CEO Igor Sechin will accompany Russian President V.Putin during the coming visit to Vietnam and Igor Sechin will work more specifically on the ability to invest in this project.
Nhon Hoi petrochemical complex project, invested by PTT Group, is in the research process. According to PTT, Nhon Hoi projects need investment capital of $25-30 billion. PTT will invest 30-40 percent of the total capital and it is calling for investment from partners. Once it is put into operation, this will be the largest petrochemical complex in Asia.
S. Tung