VietNamNet Bridge- The newly-issued decision by the Ministry of Transport announces the birth of a new corporation named SBIC and the officially deletion of the disreputable Vinashin group.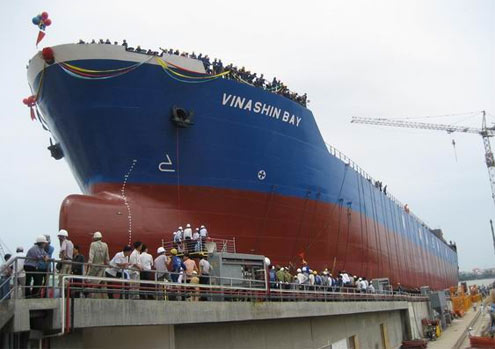 The Transportation Ministry has announced the decision on the establishment of the Shipbuilding Industry Corporation (SBIC) on the basis of the reorganization of the parent company and a number of member units of the Vietnam Shipbuilding Industry Group or Vinashin, marking a milestone in the process of restructuring of Vinashin, the group that used to be determined as the economy's mainstay but committed many mistakes in investment, business and administration.
The new corporation will operate under the parent - subsidiary model. The parent Company – SBIC is a one-member Limited Liability Company, with 100 percent of the charter capital held by the State, operating under the Enterprise Law.
The eight subsidiaries include: Pha Rung Shipbuilding Company; Bach Dang Shipyard, Ha Long Shipyard; Thinh Long Shipyard; Cam Ranh Shipyard; Sai Gon Shipbuilding and Marinetime Industry Company; Song Cam Shipbuilding JSC.
SBIC has charter capital of VN 9,52 trillion. Its major business areas consist of building, repair and conversion of ships, floating equipment and facilities and recycling, dismantling old ships.
In addition, the corporation is also tasked with operation of seaports, inland ports, docks, piers and provides tugboat, barge and floating facility services.
SBIC will also operate in the fields of construction of marine works, shipyards, manufacturing of steel structures and other products that directly serve the shipbuilding and ship repair industry.
Vinashin will end operations from the day SBIC granted with the business registration certificate. Once being established, SBIC will assume the legal rights and obligations and legitimate interests of the parent company - Vinashin.
SBIC will have to restructure 234 companies of Vinashin by equitizing, transferring, selling, merging and dissolving them and continue to carry out the Vinashin restructuring plan that was approved by Prime Minister Nguyen Tan Dung.
Vinashin was founded in 2006 on the basis of reorganization of the Vietnam Shipbuilding Industry Corporation. Vinashin was established as a group with the parent company and subsidiaries. The parent company operated as a limited liability company that was wholly owned by the state. However, mistakes in the seven years of operation under the group model caused losses of billion of US dollars for the state, forcing Vinashin to be restructured in the past 3 years.
Recently the Deputy Minister of Transport said that Vinashin's debts were basically restructured. Besides, the withdrawal, transfer and the merger of dozens of subsidiaries were also conducted.
Tran Cham