VietNamNet Bridge – After an announcement by the Civil Aviation Authority of Vietnam (CAAV) to slash service fees at five international airports, some foreign aviation firms and travel enterprises have prepared plans to launch new flights to Vietnam at the end of this year.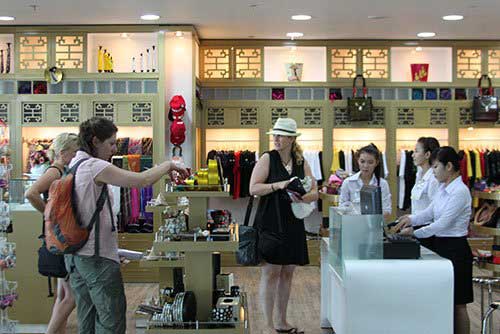 Visitors buy souvenirs at Phu Quoc Airport. Pegas Touristik and Anh Duong Tourist Company have plans to bring Russian passengers to Phu Quoc on direct flights at the end of this year.
These enterprises have sent specific flight plans to CAAV after the agency held a promotion conference in September to call for investment in new air services to five international airports: Phu Bai, Cam Ranh, Lien Khuong, Can Tho and Phu Quoc.
Turkey's Pegas Touristik Company and its Vietnamese partner Anh Duong Tourist have plans to launch direct flights from Russia to Phu Quoc on December 16 using Airbus 330 aircrafts. Initially, there will be two flights per week with each carrying 200 visitors to Phu Quoc Island off Kien Giang Province.
AirAsia is also studying the tourism potential in Phu Quoc to send travelers to the island. The low-cost carrier expects to launch Singapore-Phu Quoc and Phu Quoc-Siem Reap routes in the future.
Vo Huy Cuong, deputy head of CAAV, said that the agency has mapped out up a project to open Dalat-Singapore air link. However, after a promotion conference organized by CAAV, Lam Dong Province's government and the Vietnam Embassy in Singapore on October 21, no enterprises have registered to join the project so far.
On October 24, Russian air carrier Utair inaugurated a new route linking Novosibirsk City with Nha Trang City in Khanh Hoa Province. The air carrier has six weekly flights on the Novosibirsk - Cam Ranh route using Boeing 777 and Boeing 757 aircraft.
During the promotion conference in September, Cuong said that enterprises launching flights to the five airports will enjoy 50% fee discounts for many services such as take-off and landing and security scanning. The fee reduction may be applied in three years.
In addition, enterprises are encouraged to open flights to all airports in Vietnam, except for Noi Bai, Danang and Tan Son Nhat.
Authorities of the localities have also pledged to give incentives to air carriers. For instance, Lam Dong Province's government will support accommodation and travelling expenses for enterprises making studies at Lien Khuong Airport.
Source: SGT