VietNamNet Bridge – Viet Nam exports large amounts of rice, yet millions of rice farmers do not profit from their hard work, Minister of Agriculture and Rural Development Cao Duc Phat said.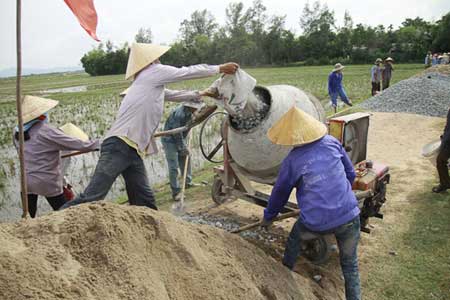 Workers build a rural road in Thach My Commune, Loc Ha District, Ha Tinh Province. Farmers still see few benefits from agricultural achievement even though Viet Nam is one of the world's top three rice exporters.
He was speaking at a recent conference reviewing the implementation of the Party Central Committee's resolution on developing agriculture, farmers and rural areas over the past five years.
Total rice production reached 43.7 million tonnes this year, according to the ministry, an increase of 5.1 million tonnes over the past five years.
Rice exports brought in more than US$3 billion, making Viet Nam one of the world's top three exporters.
But the low profits that rice farming offers are driving many to abandon their fields, Phat said.
The country has about 18 millions hectares of land for cultivation, forestry and aquaculture production. The total turnover of the sector was VND9.4 trillion (US$441 million) last year, while the turnover of each hectare was VND50 million ($2,350).
"There are about five to six households sharing each hectare on average. How could they live on such a low income?" former Deputy Prime Minister Nguyen Cong Tan said.
Tan said the country should aim to increase farmers' incomes instead of rice exports. This could be done by reducing rice production to enough for domestic consumption and an extra 20 per cent for export and switching to other crops that would bring farmers higher profits.
Aquaculture production and the agriculture-forestry-aquaculture processing industry are also seeing high annual growth rates, about 5.6 per cent and 18.3 per cent respectively. But while agricultural exports are high, they also tend to be low value.
"We have mainly exported raw materials. Something must be done to avoid reducing the value of agricultural products in the international market," Tan said.
Dang Kim Son, head of the Institute of Policy and Strategy for Agriculture and Rural Development, said that individuals should be able to invest in agricultural machines to improve the value of agricultural products.
Source: VNS