VietNamNet Bridge – The Civil Aviation Administration of Vietnam (CAAV) has announced the list of infrastructure projects in the field of aviation. In which, the construction of four airports will cost more than VND170 trillion (about $8.1 billion).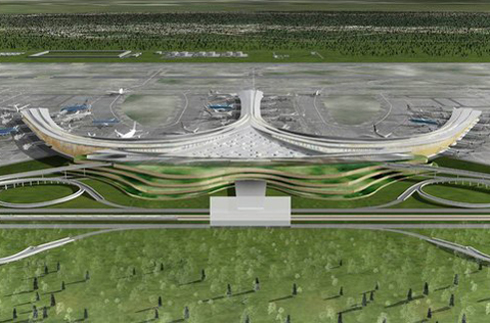 The perspective of Long Thanh International Airport.
The four airports listed in the plan are Long Thanh International Airport, Chu Lai International Airport, Quang Ninh Airport and Cam Ranh International Airport.
The Long Thanh International Airport, located in the southern province of Dong Nai, is only mentioned in the first phase of construction, with the capacity of serving 25 million passengers per year and being designed to receive the A380-800 aircraft. The next stages, with the capacity raised to 50 million and 100 passengers, are still in the research phase.
The total investment for the first phase of the Long Thanh airport accounts for up to nearly VND151.7 trillion ($7.5 billion). The total capital for the three international airports of Chu Lai, Quang Ninh and Cam Ranh is nearly VND21.1 trillion ($1 billion).
The Chu Lai International Airport in the central province of Quang Nam's Chu Lai Open Economic Zone will be upgraded with investment capital of VND11.5 trillion (US$546.1 million).
It will have two parallel runways, a passenger terminal capable of handling 2.3 million passengers per year and a cargo terminal with a capacity of 1.5 million tonnes per year. The project will be carried out from 2015 to 2025.
About VND4.5 trillion (US$214.3 million) will be invested in upgrading the Cam Ranh International Airport in Nha Trang City in the central coast province of Khanh Hoa. The airport handles all domestic and international flights to Nha Trang. The project due to start in 2015 and be completed by 2030, will include a new runway and upgrade work on Runway 1.
The construction of the Quang Ninh Airport in Van Don Island district in the northern province of Quang Ninh will be divided into two phases. The first phase from 2015-2020 will allow the airport to receive 2 million passengers and 4,050 tonnes of cargo per year. The second phase until 2030 will increase cargo capacity to 7,500 tonnes per year.
The project includes runways, taxiways, airfields, and air traffic control tower, a passenger terminal and a cargo terminal. Total investment is estimated at VND5.1 trillion (US$243 million).
The portfolio also mentioned the development of the aviation industry in the period from 2016 to 2020. Accordingly, Vietnam will build aircraft repair and maintenance facilities at the Long Thanh International Airport and the Aviation Industry Park at the Long Thanh International Airport.
Decision 21/QD-TTg dated January 8, 2009 issued by the Prime Minister stated that Vietnam should have 26 airports by 2020, of which ten will be international hubs.
S. Tung