VietNamNet Bridge - Foreign investors are very interested in the Dau Giay - Phan Thiet highway projects, after a series of preferential policies are announced.
On September 19, the Ministry of Transport and the World Bank held a meeting with foreign investors on the Dau Giay - Phan Thiet highway project.
This workshop is the 4th opportunity for investors to learn about this PPP (Public Private Partnership) project, the first of its kind in Vietnam. Previously, three workshops were held in India, Korea and Singapore in July, attracting hundreds of foreign investors.
The 4th workshop attracted the participation of 36 major investors, which are well-known groups in the field of building infrastructure, mainly from France, India, the Philippines and Singapore.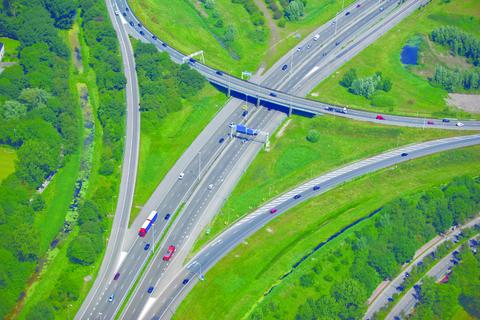 The perspective of Dau Giay-Phan Thiet highway.
"This is a unique opportunity for investors," said Mr. Mark Moseley, head of the working group of the World Bank. Accordingly, there will be a series of incentives for one or a group of foreign investors who win the bid.
Specifically, a non-refundable grant from the VGF fund of the World Bank will be available to the bid winner. In addition, investors will not need external commercial loans because the World Bank will provide another loan from IBRD fund, with the much lower interest rate than commercial loans.
For the Government of Vietnam, in addition to making a legal framework for the project, will also be fully responsible for the site clearance for the project, with funding from the state budget of $107 million.
Besides the first investor with 60 percent of capital - Bitexco group, Vietnam is seeking the second investor which is one, or a group of up to three companies with 40 percent of capital contribution. The winner will be the one with the lowest VGF.
According to Deputy Minister of Transport Nguyen Ngoc Dong, this is the first PPP project in Vietnam, therefore it will be granted with great incentives to be a model for the subsequent projects. The funding of $107 million for site clearance is one of the Vietnamese Government's efforts to create incentives for the project.
He also said that the foreign investors who are interested in the project are well-known international groups.
The Dau Giay - Phan Thiet expressway project is located in the Southeastern region with four lanes with a length of 100 km, a total investment of $757 million. The highway has strategic importance for connecting economic centers from HCMC to Phan Thiet. After the project is put into operation, it is expected to reduce congestion on Highway 1A.
Once the highway is completed, the project investors will have about 30 years to explore the road before handing it back to the Ministry of Transport. Deputy Minister Nguyen Ngoc Dong said the toll on this highway will not exceed the current ceiling level.
Na Son