VietNamNet Bridge – The international community pledged to provide Vietnam total official development assistance (ODA) of nearly USD80 billion over the past two decades.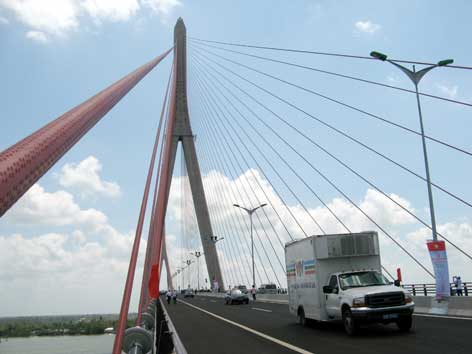 Can Tho Bridge is an ODA-funded project.
This information was announced by Hoang Viet Khang, the Ministry of Planning and Investment's Director of General Foreign Economic Relations Department, at a recent conference in Hanoi.
According to Mr. Khang, 51 international donors provided ODA for Vietnam, including 28 bilateral and 23 multi-lateral types.
The ODA commitment for Vietnam gradually increased to the record high of over USD8 billion in 2009 from only USD1.8 billion first pledged in 1993.
Vietnam is expected to disburse around USD58 billion in ODA by the end of this year.
Khang added that ODA has helped to improve Vietnam's socio-economic situation. Vietnam has implemented many important projects such as the upgrade of National Highway 1A as well as the construction of Nhat Tan and Can Tho bridges. Vietnam has also made positive achievements in poverty reduction via ODA.
The Ministry of Planning and Investment said that transport and post and telecommunications are the two sectors which use ODA the most, accounting for 28%; next is industrial energy at 20%; agriculture and rural development at 15% and urban development at 14%.
According to In Kim, Head of Korea International Cooperation Agency (KOICA) in Vietnam, Vietnam should set up a reciprocal capital fund to speed up ODA-funded project implementation.
Vietnam should focus on ODA for big infrastructure projects to attract more foreign and private investment as South Korea has done, he added, noting that the fund is very important for demonstrating Vietnam's commitment to every ODA project.
Akira Shimizu, Senior Representative of the Japan International Cooperation Agency (JICA) in Vietnam said Japan will maintain ODA for Vietnam in the future.
Source: DTriNews