VietNamNet Bridge - ISC Group Corporation (U.S.) and partners of Tuan Chau Group have come to Quang Ninh to find investment opportunities in the Van Don Administrative - Economic Zone.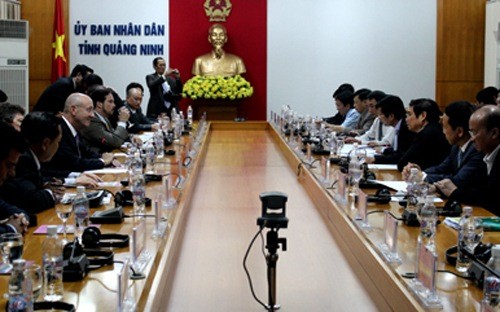 The meeting between ISC Corporation and Quang Ninh authorities.
At the meeting, Mr. Jack Maher, Chairman of the ISC Group, said in the past two years, the Group has been working closely with Quang Ninh province to conduct research, make plans, and sign contract to develop the entertainment complex project on Tuan Chau Island, in Ha Long City with a total investment of up to $7.5 billion.
Particularly with the Van Don Administrative - Economic Zone, the group has urged American corporations to conduct surveys and research, with the expected investment of about $4 billion. Therefore, at this meeting, ISC and partners of the Tuan Chau Group asked Quang Ninh Province and the Government of Vietnam to allow them to implement the project in Van Don in the shortest time.
Mr. Pham Minh Chinh, Party Secretary of Quang Ninh, said that investment in the Van Don Administrative - Economic Zone is particularly interested by the government since Van Don District is the major economic zone with a number of preferences. The Prime Minister agreed on the construction of a recreation complex, including a casino in Van Don.
Quang Ninh Province is also proposing to the Government of Vietnam some content to invest in infrastructure of Van Don such as high-class marine tourism development, casino industry, financial market, green industry, entertainment, clean agriculture, airport, cruise port development.
Chinh proposed that after the meeting, the two sides will sign a long-term cooperation agreement and promised that Quang Ninh will create the best conditions for ISC Group and partners of Tuan Chau Group to invest in Van Don.
TBKTVN