VietNamNet Bridge – National flag carrier Vietnam Airlines will complete its asset valuations this month, said Deputy General Director Duong Tri Thanh on Thursday.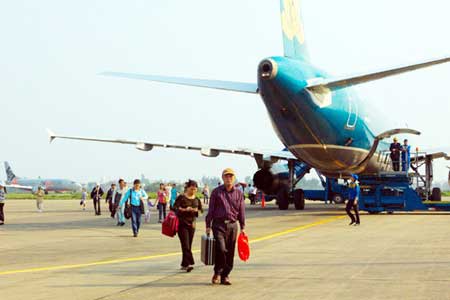 Passengers land in Vinh City, central Nghe An Province with Vietnam Airlines' flight from HCM City.
The announcement came as the Government and Transport Ministry gave an official nod to the airline's plan to issue public shares.
"We planned to complete the asset valuation this month and complete the initial public offering by late 2013 or early 2014," Thanh said.
Currently, the domestic aviation market comprises around 60 per cent in domestic travel and 40 per cent in international travel. Vietnam Airlines is the nation's largest airline capturing over 49 per cent of the domestic market.
Studies indicate Viet Nam's aviation market continues to enjoy consistent growth, becoming an increasingly important share of the global aviation market.
Between 2001 and 2013, the country's aviation market grew 14.5 per cent, equivalent to an increase of 30 million passengers per year.
Deputy Director Thanh said the industry is expected to transport around 90 million passengers by 2020 and 132 million passengers by 2025.
He said the new plans will help the airline achieve its goal of becoming one of the leading carriers in the region.
Source: VNS