VietNamNet Bridge – Economic experts during a forum in HCMC last Friday expressed concerns over Vietnam's capability to deal with international exits after India and Indonesia suffered great difficulties from the withdrawal of foreign investors in recent times.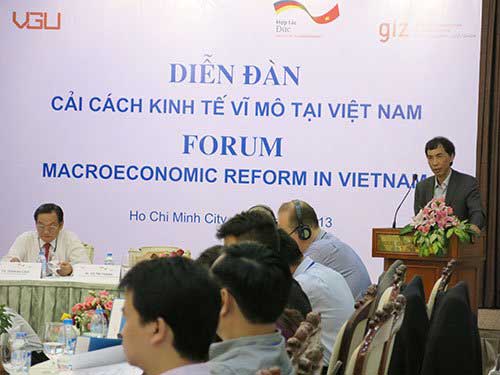 Delegates attend a forum on economic reform in Vietnam in HCMC last week.
Vo Tri Thanh, deputy director of the Central Institute for Economic Management (CIEM), told the forum that Indonesia and India have been able to cope with international exits as they have stronger fundamentals than Vietnam. However, they have suffered greatly right after foreign investors left the country.
Thanh pondered what would happen if Vietnam were in the same situation.
"The most important thing is the lesson (from India and Indonesia) for Vietnam in macro economic stabilization," Thanh said at the forum on economic reform in Vietnam organized by the German Agency for International Cooperation and the Vietnamese-German University.
Economic expert Vu Dinh Anh was concerned about Vietnam's preparations for forthcoming changes relating to the U.S. tapering with its economic stimulus package QE3.
Concerning economic restructuring, Thanh said Vietnam is the most ambitious country in the world as it is aiming at four targets, some of which are on the collision course.
These include stabilizing the macro economy, gradually recovering economic growth, restructuring the economy and speeding up international integration, all at the same time, he said.
Tran Du Lich, deputy head of the National Assembly deputy delegation of HCMC, said that Vietnam has many targets but fails to realize its determination through policies.
The Government's economic restructuring remains a 'wish' while there are no specific methods to realize the plan. Many seminars have been organized but finally, more questions have been asked and answers remain unknown, Lich said.
Thanh questioned when the nation would really make a strong reform. There is slowness in policy-making though the process should be much quicker as Vietnam has a one-party system.
Major reforms must be made quickly in the State-owned economic sector, public investment and banking to win back the confidence of local citizens, Thanh said.
Source: SGT