VietNamNet Bridge – The only operating private airline in Vietnam has unexpectedly announced a profit in its second year of operation.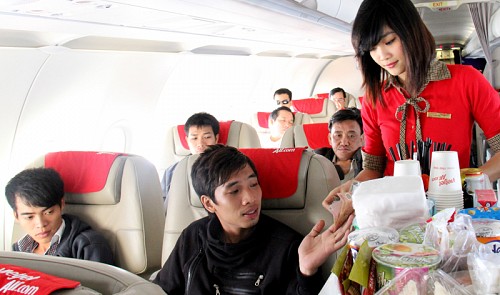 Bloomberg quoted Mr. Luu Duc Khanh, VietJetAir CEO as saying that the first private airline of Vietnam has achieved pre-tax profit of VND120 billion ($6 million) in the first 7 months of this year.
Khanh said the profit exceeded the firm's expectations. When starting up a business plan, VJA had planned to earn profit after three years, meaning that it only targeted breakeven this year. VJA conducted the first commercial flight in December 2011.
According to data of CAPA Aviation Center, the market share of domestic transport of VietJetAir rose to 20 percent in late August 2013 compared with 16 percent in the second quarter of 2013. This figure exceeds Jetstar Pacific (12 percent) and behind Vietnam Airlines (68 percent).
According to CAPA, VietJetAir increased its market share thanks to increasing the frequency of some domestic routes and to opening some new routes, including the two first international routes from Hanoi and Ho Chi Minh City to Bangkok in the first half this year.
From now until the end of the year, the firm will receive two Airbuses of the latest generation, bringing the total number of aircraft to 10.
In addition, to mobilize more capital for hiring and buying new aircrafts, Khanh unveiled that VietJetAir is about to perform an IPO within 18-42 months. Since the domestic capital market is small, the firm may perform an IPO overseas.
VietJetAir will still focus on the domestic market but it will also develop international routes, including Seoul - Hanoi in the fourth quarter 2013 and will consider opening the routes to China, Singapore, Hong Kong and Taiwan next year.
The company will also consider joint ventures with regional airlines to expand its coverage in Asia - Pacific.
In June 2013, the firm signed a memorandum of understanding with the Kan Air of Thailand on their joint operation in Thailand next year. Khanh said VJA would consider setting up similar joint ventures in several countries in the Asia - Pacific region.
Na Son