VietNamNet Bridge - For the first time in Vietnam, the contractors who finished their works ahead of schedule have been proposed by the Thang Long Project Management Unit to be awarded with nearly VND180 billion ($9 million).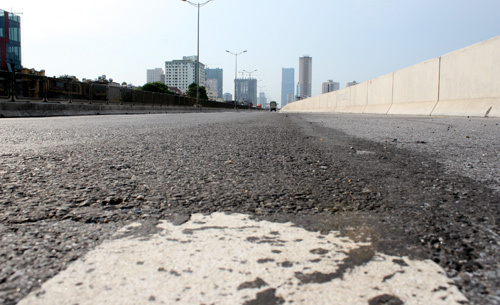 The surface of the new road. Photo: VNE
Thang Long Project Management Unit has asked the Ministry of Transportation to approve bonuses worth VND179.9 billion to the contractor of the Mai Dich - Bac Linh Dam overhead road.
The Samwhan (South Korea) - CIENCO4 (Vietnam) contractors are proposed to earn VND77.7 billion ($3.8 million) of reward for completing Package 1 of Mai Dich - Trung Hoa road 263 days before schedule and Sumitomo Mitsui (Japan) with VND102 billion reward for completing the Package 2 of Trung Hoa - Thanh Xuan road for 454 days before schedule.
This is the first time in Vietnam that contractors are proposed by the investor for rewards. According to the Thang Long Project Management Unit, the total value of the benefits from the shortened schedule of the two packages is about VND1.4 trillion ($70 million).
Under the terms of the contract signed between the investor and the contractors, if the contractors complete the packages ahead of schedule, they will be awarded with 1.12 percent of the contract value for each 28 days shortened, but the total reward must not exceed 12 percent of the benefits from the early completion.
The road is 9 km long, with a total investment of VND5.547 trillion, using ODA from Japan. The value of Package 1 is VND1.416 trillion and Package 2 at VND1.079 trillion. The work was kicked off in June 2010 and completed in October 2012. This is the most modern overhead road in Vietnam.
According to the Thang Long Project Management Unit, the bonus of VND180 billion, if being approved, will be deducted from the project fund, which is Japan's ODA.
VNExpress online newswire recently reported that although the above road was completed 18 months ahead schedule, its quality is not very good because the surface at some sections was subsided. The Thang Long Project Management Unit explained that the subsidence was caused by overloaded trucks.
They added that the work still has two year warranty so the contractors will have to fix the errors.
Na Son