VietNamNet Bridge – Market analysis firms, after analyzing the recent figures, have come to a conclusion that Vietnam is a rising star in the households' consumption on consumer goods. According to the World Bank, the household's spending in Vietnam is equal to 63 percent of the country's GDP.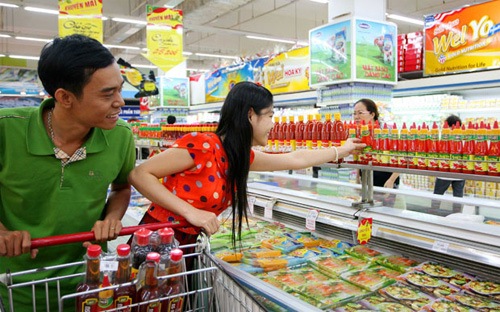 The Vietnamese CAGR which measures the consumers' spending growth rate in 2011-2020 is believed to be the highest among ASEAN countries, reaching 8 percent, which is even higher than that of Indonesia and Malaysia at 5 percent, and Thailand and Singapore at 4 percent. (Source: Global Insights, Bain Analysis).
The reports by international market survey firms recently all have said Vietnam has emerged as a promising consumer goods market.
A BMI's report has estimated that the food consumption growth rate of Vietnam in 2012-2017 is 9.43 percent, while the canned food consumption growth rate would be 5.17 percent and sweets 4.65 percent.
As for drinks, the coffee turnover growth rate is 8.47 percent, while the figure of 6.96 percent has been projected for fizzy drinks.
With the youngest population in the world (56 percent of people are less than 30 years old, according to Nielsen), the total spending of Vietnamese consumers is expected to be double to $173 billion by 2020, according to Euromonitor, Global Insight, Bain Analysis.
Nielsen, in its recent report about fast moving consumer goods FMCG, showed that by the third quarter of 2013, the growth rate of the Vietnamese market had reached 23 percent, outstripping the big markets such as India or China (Grocery Report 2012 – Nielsen).
Analysts have predicted the rise in the investments in FMCG manufacturing in the time to come. Investors have been encouraged by the prediction that the Vietnam's GDP growth rate would reach 7.2 percent by 2017, as estimated by Economist Intelligence (Vietnam Country Report April 2013 – EIU, page 7)
Regarding the scale of the retail market, Euromonitor has predicted that the total turnover of the market would be approximately $34 billion by 2016. The figure was $29 billion in 2011.
Analysts have predicted the strong rise of the modern retail channels in Vietnam which would gradually replace the traditional distribution channels.
In 2011, the traditional groceries in Vietnam made up $11 billion in total turnover, while the figure is expected to decrease to $10.7 billion, or one percent, by 2016.
Meanwhile, the modern groceries, which only made up $1.6 billion in turnover in 2011, is believed to see the figure to increase to $2.8 billion, or 12 percent, by 2016.
According to Bain & Company, the customer's loyalty is an important factor which helps domestic enterprises win in the competition in the retail market.
In some cases, even the big multinational retail groups also lost the battles. Walmart, for example, once was defeated in South Korea because it could not adjust the business strategy to get adapted to the local market.
The consumer goods market is believed to continue growing rapidly in the future. The total actual turnover of the consumer goods relating fields is expected to increase to $140 billion by 2016. The CAGR would be 3 percent in the retail sector in 2011-2016, and 6 percent for non-food and non-drink consumer goods, 3 percent for other food and drink sectors (Source: VinaConnect Report, Euromonitor and Bain Analysis)
TBKTVN