VietNamNet Bridge – Several State-owned enterprises (SOEs) are facing difficulties withdrawing their investment from non-core businesses, even though this September is the deadline for them to do so.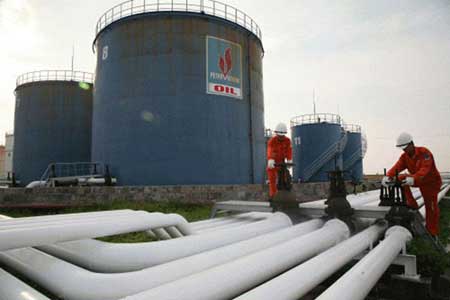 Viet Nam National Oil and Gas Group (Petrovietnam) engineers maintain oil pipelines. The company is to withdraw capital from several areas, including banking and property. — Photo Petrovietnam
The Ministry of Finance will publish information on enterprises that have not completed their plans after the deadline is over.
It said that one of the reasons was because businesses could find it hard to retain State-owned capital after divestment, especially during the economic slowdown.
The ministry's deputy head of Businesses Finance Department Dang Quyet Tien said they provided instructions on how to set up risk prevention funds, which could be used to offset risks to investments.
Tien said that if the funds were paid on time, businesses would face less pressure during the divestment process.
He added that enterprises would have to ensure transparency when selling the shares of non-core businesses.
Accordingly, if SOEs were listed in the stock market, their shares would be sold at market prices.
The remaining shares will be auctioned off.
He said that SOEs have been asked to offload their investments immediately if they hold less than 30 per cent of the stock.
Enterprises which hold more than 51 per cent of non-core businesses are allowed to withdraw their capital gradually.
The ministry has recorded a number of difficulties relating to equitisation and divestment and will submit them to the Prime Minister next month.
The ministry's figures show that 66 SOEs have drawn up restructuring plans, of which 44 were approved.
Economist Nguyen Tri Hieu said it would seem to be impossible for SOEs to ensure State-owned capital in the current climate.
The Government will not be able to resolve this effectively if they insist on keeping their capital.
"The issue is that the Government will accept the capital lost during the divestment process. For example, the loss of State-owned capital will be 30 per cent in the real estate sector, while in banking industry it will be 50 per cent," Hieu said.
Sharing his ideas, economist Bui Kien Thanh said that selling the shares of SOEs at non-core businesses should be carried out immediately despite any losses.
Thanh said only 15 out of 49 banks had reported a profit. If SOEs invested in the banks, it could be hard to make a profit after divestment.
He added that SOEs could negotiate with the State Capital Investment Corporation (SCIC) to manage the investments.
A report from the Finance Ministry showed that SOEs have invested VND21.8 trillion (US$1.04 billion) in non-core businesses.
Of this total, VND10.1 trillion ($481 million) was injected into the banking sector while VND5.3 trillion ($252.38 million) was invested in real estate.
Source: VNS