VietNamNet Bridge – Airports Corporation of Vietnam (ACV) on Monday requested related parties to accelerate the development of Long Thanh International Airport in Dong Nai to ease the burden on the operational Tan Son Nhat International Airport.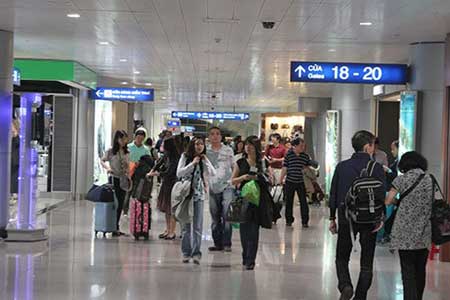 Passengers are seen at Tan Son Nhat International Airport in HCMC. Tan Son Nhat Airport is forecast to face overload by 2020.
Nguyen Nguyen Hung, chairman of ACV's board, said Tan Son Nhat Airport in HCMC would be overloaded by 2020, even in the lowest growth scenario for the aviation market. He was speaking at a workshop held by the Ministry of Transport in Hanoi on Monday to gather comments on a report on the Long Thanh Airport project.
It takes around ten years to complete an international airport. Thus, the decision to build Long Thanh Airport has come late, Hung stressed.
"We should have been ready for groundbreaking now to finish the first phase of Long Thanh by 2020, with a capacity of 25 million passengers per year, sharing the load with Tan Son Nhat."
Funding for Long Thanh Airport will be mobilized from various sources. In the first phase, from 2014 to 2020, the project will cost an estimated US$5.6 billion, with 53% of it to be covered by the State and ODA loans, and the rest by the private sector.
The final preparation steps are being made so that the report on the airport project can go before the National Assembly (NA) in October, said ACV.
A report by Japan Airport Consultants Inc. (JAC) published on Monday shows that Tan Son Nhat airport would reach the annual capacity of 20-25 million passengers between 2018 and 2020, and face overload after that.
Along with the construction of Long Thanh International Airport in Dong Nai's Long Thanh District, the consultant had drawn up two other schemes, with one for expanding Tan Son Nhat Airport and the other for expanding Bien Hoa Airport.
However, after considering the factors of site clearance compensation, environmental impact and total development cost, the consultant had suggested building Long Thanh airport.
Long Thanh International Airport was first planned in 2005 with an area of 5,000 hectares, 32 kilometers from Bien Hoa military airport and 43 kilometers from Tan Son Nhat Airport.
Long Thanh airport is designed with a maximum capacity of 100 million passengers and five million tons of cargo per year, capable of receiving A380 aircraft and those with same capacity. The airport will be able to satisfy the air transport demand in the region by 2030.
As for the scheme mapped out by the Japanese consultant, the total cost of Long Thanh airport project is estimated at US$7.8 billion, with US$730 million needed to compensate for some 1,500 households forced to relocate.
Meanwhile, the cost of expanding Tan Son Nhat Airport might reach US$9.15 billion. Expanding Bien Hoa Airport is not feasible either because site clearance work may cost billions of U.S. dollars and a new airbase must be constructed.
JAC said the report on the Long Thanh International Airport project should be perfected soon for submission to the NA at its sitting late this year. The next steps will be design and capital mobilization so that the project will soon get off the ground and be basically completed in 2022.
Even if construction work progresses well, Long Thanh International Airport could be fully ready for service by 2023 or 2024, said Hung.
The project is scheduled for groundbreaking in 2015. An estimated 24,000 workers would be needed in the construction process.
Recently, Dong Nai has petitioned the Government to set aside VND4.1 trillion for development of resettlement areas and nearly VND4.2 trillion for site clearance in the first phase.
The province has also asked the project owner to calculate the number of workers in need and provide training for over 10,000 people whose land is taken by the project.
Source: SGT