Laos remains a bright destination for Vietnamese investors, the director of the HCM City Investment and Trade Promotion Centre said at a seminar held in HCM City yesterday.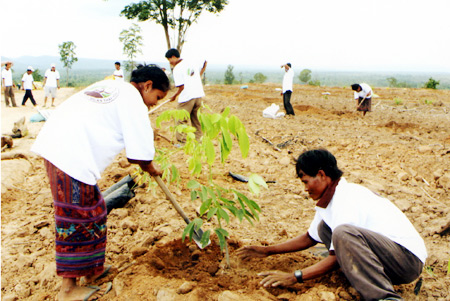 Pho Nam Phuong said that 30-40 Vietnamese companies would have an opportunity to promote their products at the HCM City Show 2013 to be held in Laos's Champasak Province on July 22-26.
The show will introduce Vietnamese products such as processed food, plastics, products for agricultural sector, furniture, textiles and garments, cosmetics, electronics, electricity and construction materials.
There will also be a seminar on promoting HCM City investment, trade and tourism in Champasak, as well as a business trip to survey the Champasak market on July 22-25 with the participation of more than 100 businesses from Viet Nam and Laos.
Southideth Phommalat, Laos's consul general in HCM City, said the Lao government had exempted land rental costs for investors so they could build schools, hospitals and infrastructure projects.
The government has also offered many incentives for foreign businesses to invest in remote areas in Laos.
Trade relations between Viet Nam and Laos have improved in recent years, with bilateral trade reaching US$900 million last year. It is expected to rise to $2 billion by 2015 and $5 billion by 2020.
Viet Nam is one of the top investors in Laos in many sectors, including energy, banking, insurance, plantations of industrial crops, commercial services and urban development.
Laos's Champasak province, known as a tourism, social and economic hub, has attracted the most Vietnamese investors.
The province has developed many industrial parks with a total area of 2,660ha and three special economic zones.
At least 679 domestic and foreign projects with total investment capital of 5,884 billion Lao kip have begun in the province.
HCM City currently has 37 projects in Champasak with a total capital of more than $217.7 million.
"Vietnamese businesses need to thoroughly understand Laos's law and investment policies to avoid trade disputes and help contribute to cooperative ties between the two countries," Phommalat said.
He said that some Vietnamese projects had been suspended because they had not been implemented. As a result, they had affected Laos's development process.
He urged Vietnamese investors to learn more about their competitors in Thailand and China as well.
Developing trade and economic activities at borders and border gates was also important, he said, pointing out that Laos bordered 10 Vietnamese provinces with a total length of more than 2,000 km.
A mountainous and landlocked country, Laos shares borders with Cambodia, Myanmar, China, Thailand and Viet Nam. It has plentiful natural and mineral resources as well as many rivers and flat land appropriate for developing agriculture.
Source: VNS