VietNamNet Bridge – Viet Nam's economy was on the right track to recovery, with inflation no longer a great concern, according to Minister of Planning and Investment Bui Quang Vinh.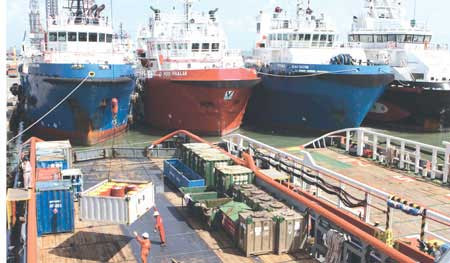 Goods are loaded at Vung Tau Petroleum Service Port. The export sector continues to post a steady growth rate and is still a main driver for the economy. The nation's growth was said to be on an upward trend.
He was speaking at the regular cabinet meeting in Ha Noi yesterday, June 27, to review the country's socio-economic status during the first half of the year.
His statement was backed up with positive readings of the main macro-economic indicators released by the General Statistics Office (GSO) yesterday.
The nation's gross domestic product grew 4.9 per cent year-on-year in the half past of this year. The growth rate means Viet Nam has expanded at a slower pace compared to the same period last year, but growth was on an upward trend on a quarterly basis.
The Consumer Price Index (CPI), which broadly reflects inflation, had either fallen or increased slightly since March, after rising for seven consecutive months.
The CPI in June increased just 2.4 point compared to December, the lowest rise in the last 10 years.
This indicated inflation would no longer be a big concern this year and Viet Nam might end up with lower inflation rate compared to 2012.
Viet Nam's exports continued with steady growth as the value of Vietnamese exports over the last six months reached US$62.1 billion, 16.1 per cent higher than the same period last year.
While there were some positive signs, cabinet members remained cautious that the economy was still latent with instability risks.
Despite interest rate cuts, credit access was still very challenging for the business community because there was still no viable solution to the bad debt problem.
A number of local leaders suggested the Government come up with policies to boost consumption and investment which in turn would propel production.
Le Hoang Quan, chairman of the HCM City People's Committee, the country's biggest economic hub, said the banks still had healthy deposits, so the Government should put in place loose monetary policies to enable struggling enterprises to access credit.
Mai Van Ninh, Party Committee Secretary of central Thanh Hoa Province said special attention should be paid to enterprises working in the sector of capital construction which were faced with high inventories.
The production of building materials could not be revived while the housing market remained frozen, minister of construction Trinh Dinh Dung, stressing the solution was to boost social housing projects to create demand.
Source: VNS